B&B Charcoal Review

B&B Charcoal boast that they Burn Longer, Hotter and Cleaner than all other charcoal on the market. Do they achieve this or is it all just in a name?

I'm happy to say this charcoal lives up to what is stated on the bag, from lighting up the first chimney of Oak Lump I was shocked with how clean and easily it was lit. The aroma took me right back to those smokehouses in Texas (where I have family) and it's only fitting that B&B Charcoal is from the great state of Texas.

Another statement written on the bag is "a little goes a long way" and boy is this true! I decided to test how much I would need to reverse sear a steak. So I took two handfuls of Hickory Lump and lit it with the Flaming Coals Charcoal Starter Wand, and within 2 minutes it was lit and ready to go.
The temps reached 250°F (121°C) within 10 minutes and then (when searing) I opened up all vents on the bbq, getting the grill temperature up to 500-650°F (260-343°C), it remained that hot for 3 hours after searing. So yes a little does go a long way.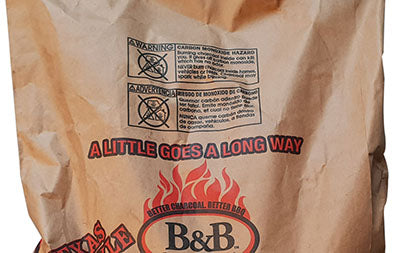 This all left me wondering just how they do it. Well, the secret is in the raw material; the wood they carbonise is still green wood which enables a longer burning time.
I found using the Mesquite lump charcoal required just 1-2 chunks on, as it is quite strong.
Which leads me to the Hickory Lump; I have strong opinions on using Hickory for smoking...I personally find it super strong and overpowering.
I was so surprised by this B & B Hickory Charcoal lump, it is subtle and not strong at all, which I was so pleased with.

I have been so impressed with this amazing product. From the all-natural briquettes to the beautiful aroma from the lump, B&B Charcoal lives up to the hype.
By: Cameron Davidson
---