Meet the Owners of Red Gum BBQ at Red Hill on the Mornington Peninsula
Red Gum BBQ is an amazing BBQ and beer hall - featuring slow-smoked loveliness and Southern delectables and craft beer from around Victoria. Not to mention the finest wines from across the Mornington Peninsula. Red Gum's guiding principals are: "Great meat comes from farmers who care about their animals. BBQ tastes better when shared with friends and family. Loving what you do shines through."
We caught up with owners Martin & Melissa Goffin and ask some questions to learn more about Red Gum BBQ. Read our interview below.
Tell us about your food - What is your specialty?
"Home to authentic Aussie-smoked, Southern-style BBQ. With a focus on low and slow, meats are traditionally smoked for 12-16 hours using native Australian hardwoods in the venue's custom-built offset steel pits. Our meats are ethically sourced, strictly free-range and grass-fed. Our specialities include succulent pulled pork, beef brisket, pork ribs, chicken, beef ribs and house-made sausage - all mouth-watering and finger-licking delicious."
"Each menu item is a fusion of Melissa's traditional family recipes along with Martin's dishes created from years of grassroots BBQ cooking, a love that was sparked when the couple first visited Melissa's family in the Southern United States in the early 2000s."
Who are your customers? What do you offer them that no one else can?
"Our customers are BBQ enthusiasts, foodies, families, friends - A place where everyone feels welcome with bench-style seating and kids corner."
"The Red Gum BBQ difference is demonstrated within the walls of the 900sqm converted truck mechanic, where the architecture reflects the laid back Southern BBQ lifestyle of Melissa's upbringing in the USA, teamed with English born Martin's dedicated 'Smoke Pit' containing custom-built smokers (3 converted LPG tanks) to meet traditional specifications."
"Guests are connected to the greater offerings of the region through the commitment to offering only the finest local wines, ciders and spirits, as well as an extensive range of Victorian craft beers on tap."
"The venue offers two dining spaces, including the Main Dining Hall (indoor/outdoor) and a Private Dining room available to hire for meetings, events, parties and other special occasions. Guests can also join us in a packed event calendar traditional Aussie and American celebrations like Easter, 4th of July, Halloween, Christmas parties and more.
"Regular Pitmaster Masterclasses are popular for aspiring Pitmasters and those wanting to take their BBQ to the next level."
Why do you love what you do?
"I really dig the challenge of BBQ. I cook BBQ on mass, I have big cookers and cook a lot of meat. The challenge is how do I cook it all as perfect as possible with all the variables that exist on time so that the hungry mob is fed. I labour over each piece of meat, they all get their own attention as each piece is different. I am thinking about my fire, how is it burning, how big is it, do I put more logs on? Is there enough smoke, should adjust my dampers to create more smoke, to raise or lower my temperature. When should I wrap, at what temperature? How do I hot hold all this meat? I'm thinking about grass vs grain-fed beef, the specifications of the cut, what breed, where is it from. I also think about wood a lot, Red Gum vs Ironbark, moisture content, size of the split, length of burn, flavour or lack of, complete combustion vs incomplete combustion. I am a little obsessed."

What's your favourite BBQ recipe?
"My brining recipe for chicken. Changed my view on chicken forever."
Give us a pro tip on getting great results
"Use a meat probe and buy a good one. It is the one piece of kit I can't live without."
Who would you invite to a BBQ at your place and why?
"Harrison Sapp and Griffin Bufkin of Southern Soul BBQ, St Simons Island, Georgia. I went over to their joint and shadowed their people cooking BBQ just before I opened Red Gum BBQ, Red Hill. They were awesome and I was so impressed. I would love to show them around my joint and take care of them as they did me. "
If you want to learn more about these awesome people or want to try their food, you can visit their website at https://www.redgumbbq.com.au
They are located at 87 Arthurs Seat Road Red Hill VIC 3937.
"Come here for all the latest and greatest. "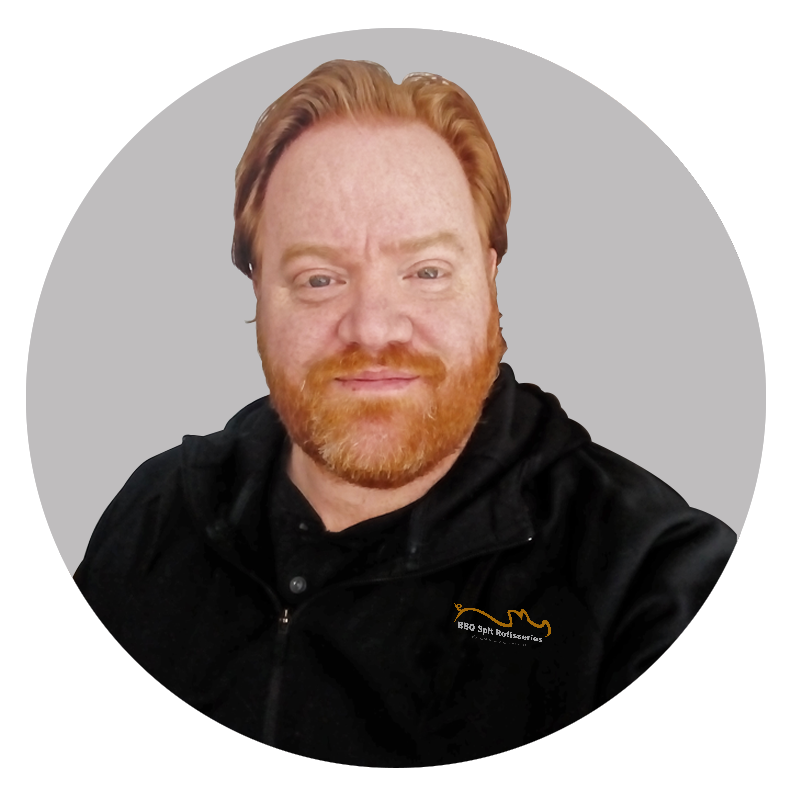 by: Mat Holbrook
---