100% Australian Owned
We're 100% Aussie owned and operated.

1-2 Year Warranty
All products. 12-24 month warranty.
60 Day Return Policy
Return within 60 days for a refund.
About Us
Our mission: To create magical moments between families and friends that will last a lifetime.
Our team loves all things BBQ so when you buy from us, you're getting advice from BBQ lovers who love nothing better than firing up the Q on the weekend. We are so passionate about BBQ, we also run BBQ Masterclasses to show you how to become the ultimate backyard BBQ hero.
We are a 100% Australian-owned business established in 2006 and design and manufacture our own products. We design products the way we know they are meant to be used to ensure customers have an incredible experience each and every time they fire up.
Used and trusted by restaurants, butchers, BBQ schools & caterers Australia-wide
Used and trusted by the following BBQ Competition Teams:
Customer Service Guarantee
When you join our BBQ Spit Rotisseries family, you are covered by our Customer Service Guarantee
We also have a 60-day money back return policy in case you change your mind and your purchase comes with a 12-24 month warranty just in case something goes wrong.
What some of our customers have to say
4.8 star average rating on Google (300 reviews across both stores)
4.6 star average rating on Facebook (300 reviews)
Still not convinced? You can view more customer testimonials here
Need Help?
If you need any help deciding which BBQ is best for you, give us a call on 1300 002 771 and we'll be happy to have a chat.

Prefer to see our products before you buy? BBQ Spit Rotisseries has showrooms in both Seaford VIC and Moorebank NSW. Visit the contact us page for address and opening hours.
Meet Our BBQ Mad Team
CEO & Product Designer
Tony Teboneras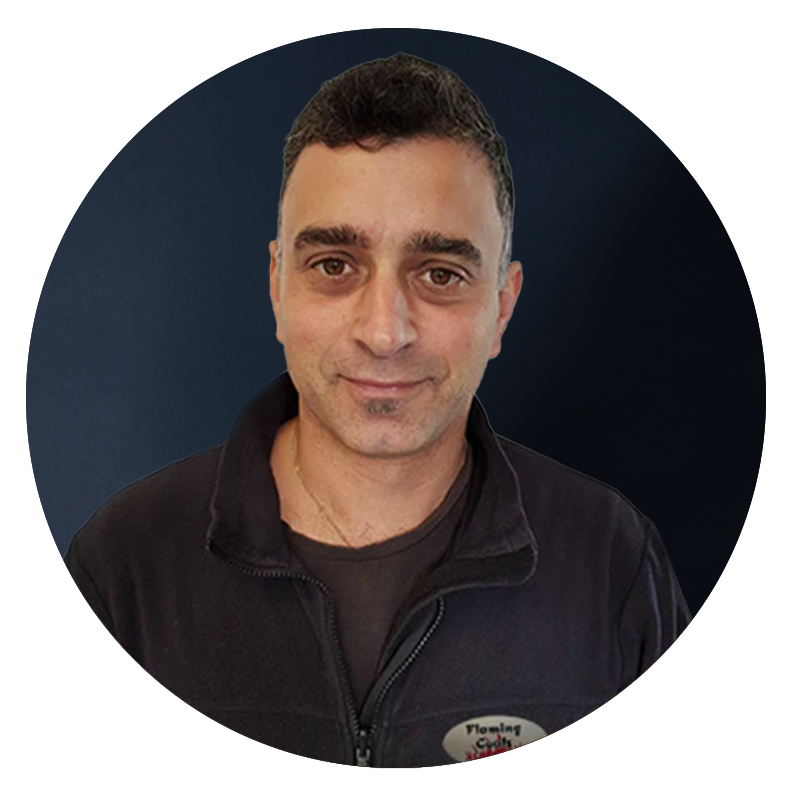 My name is Tony and I am the founder, product designer and CEO of BBQ Spit Rotisseries. Growing up, my parents owned a Greek restaurant so I grew up cooking whole lambs on the spit and grilling over charcoal. Back then, most spit roasters were made by the person using it from old drums for the base and windscreen wiper motors for the rotisserie. It wasn't until years later when I wanted to buy my own spit roaster that I realised there weren't any commercially manufactured spit roasters that were any good so I decided to make my own. 12 years later, I am proud that we have become the largest manufacturer of spit roasters in Australia and have now expanded our range into meat smokers.
As well as designing new products and improve our existing products, I oversee our manufacturing team. Like most men, I believe a meal isn't a meal unless it has a large piece of meat on it so I'm always grilling something up for lunch and dinner. I enjoy being outdoors 4-wheel driving, hunting and camping and never go anywhere outdoors without a portable charcoal BBQ.
General Manager
Rhiannon Peterson
I'm Rhiannon and I have been the general manager at BBQ Spit Rotisseries since the business started back in 2006. In addition to overseeing that our customers are happy, I liaise with our suppliers, oversee marketing, do lots of product testing and of course keep our amazing team of men in line!
I love cooking outside over charcoal and actually can't remember the last time I cooked a meal inside my kitchen. I particularly enjoy cooking gyros on the Cyprus or Mini Spits as they're easy to use on an almost daily basis.
I am very fortunate to love my work, to the point where I am somewhat of a work addict. If you happen to have a burning question that needs answering after-hours or on weekends, don't be surprised if I answer your call or reply to your email while I'm out walking my fur-baby in the park.
Business Improvement & Marketing
Gerardo Reis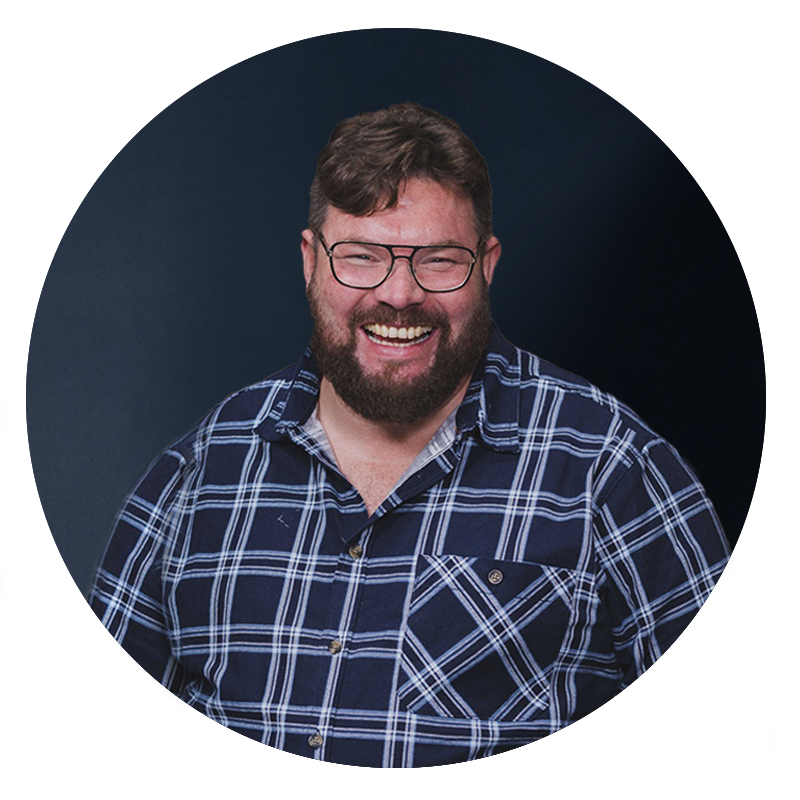 Hi, I am Gerardo from BBQ Spit Rotisseries. I am the guy that helps things run smoothly here at BBQ Spit Rotisseries and you can also thank me for all those amazing emails with tips, recipes and awesome offers that I send to you.
As a Portuguese Namibian (somewhere in Africa), we love meat and only cook with charcoal. Braai (barbecue) is not only a culture, it is basically its own religion in Namibia. We are so precious about it, that we have the saying - "You can touch my wife, but never touch my braai (barbecue)!" Jokes aside, I was raised on charcoal cooking and pride myself on taking flavours to new heights with my Namibian and Portuguese background. I love eating, but to balance it out, I am the next Rafael Nadal tennis player and also have a young daughter that keeps me on my toes.
Webmaster, Customer Service & Resident "Mr Fix It"
Jarrod Maultby
What I lack in a traditional/token BBQer's beard I make up with a sense of humour and a genuine drive to help people with excellent service.
I have had many different professions in my life which have given me the chance to learn and help people from all walks of life.
Here at BBQ Spit Rotisseries I create video content for our YouTube channel and website, manage our relationships with couriers to ensure customers get their items quickly with a minimum of fuss, and use my skills as a 'Jack-of-all-trades' to support the entire BSR team.....and keep them entertained with my endless supply of dad jokes. You'll also find me answering the phones and helping customers in our showroom choose the best BBQ for their needs.
In my spare time I play basketball, albeit not as great as when I was younger, I unwind with Playstation and XBox, hang out with my dogs, Bailey and Peaches and on weekends I love spending time with my beautiful wife and daughter as well as catching up with my family, most importantly, over a good BBQ and a hearty red wine.
Sales and customer service - Melbourne
Ben Strike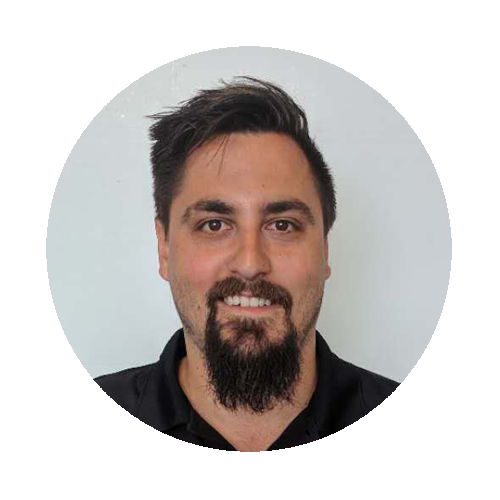 Hi, My name is Ben and I will be one of the first people you meet when you visit our Melbourne store to answer any questions you have all things BBQ.
I have extensive sales and customers service skills that I have gained over my 10 year career and I'm excited to be able to incorporate my love for helping people with my love of cooking. Spit roast lamb is one of my speciality menu items that my wife and son beg me to cook. I also do a bit of low and slow smoking with lamb being the protein of choice again.
My spare time is spent cheering on the mighty Swannies with a cold beer in hand and the lamb rotating over the hot coals.
Sydney Store Manager & Resident Pitmaster
Cameron Davidson
Who the heck is this bearded guy? This is often what goes through people's minds when they first see me but let me introduce myself properly. My name is Cam and I'm the manager of the BSR Sydney showroom and the guy who runs all the BBQ Masterclasses. I'm also the really helpful and friendly one you're likely to chat with over the phone, by email and through the live chat function through our website.
I have worked over 15 years in the retail industry and decided that shopping centres weren't for me anymore. I wanted to follow my love and passion for Low 'n Slow BBQ and work in a job where I could talk about BBQ all day, help people experience the amazing flavours that can only be achieved when cooking with charcoal and wood. It all started when I went to visit my brother who lives in Texas. My fiancé and I started in Tennessee and travelled down to Texas stopping at just about every BBQ joint we could. From then on, I was hooked.I came home, bought myself a smoker and haven't stopped cooking since.
Executive Administrative Assistant
Kem Marimon
My name is Kem and I have been working at BBQ Spit Rotisseries since mid-2015. My main job is to help Rhiannon with all the day to day administrative tasks such as bookkeeping, preparing reports, systemising and making updates to the website. I also help with designing marketing material for the website, organising events/BBQ classes, preparing and sending out newsletters etc.
I am really proud to work for a company like BSR where we all jump in and do whatever we can to help each other and our customers. Everyone from the top down is approachable and willing to help out with whatever is needed.
Of course coming from a Filipino background, my favourite style of food is Lechon. Lechon is the most popular specialty pork dish among FIlipinos. Lechon is originally from a Spanish term that means "suckling pig". Other than pork, Filipinos applied the Lechon roasting style to chicken (called "Lechon Manok"; "Manok" means Chicken) and other meats. On the weekend I enjoy watching tv variety shows, spending time with the family and of course eat.
Marketing Assistant
Alex Marimon
Hi, I'm Alex and my role consists of listing new products to the website, editing and uploading videos and doing a lot of the design for the website and marketing material. Growing up, I loved playing computer games which inspired me to go on and study IT at college. I enjoy being part of such a great company culture that always helps and supports one another, and most importantly the service we give to our customers.
While I love my job, it can be tough editing all our amazing cooking videos and putting together recipe cards without feeling hungry! My favourite food to eat is Filipino style pork Lechon. After work and on weekends, I enjoy spending time with my family and friends and watching movies.
Warehouse & Fulfilment
Russ McDougall
My name is Russ and I look after everything to do with the warehouse and product fulfilment. In between unloading containers every few weeks, stock arriving from our local suppliers daily and picking and packing all customer orders, I'm likely to be the guy who carries your charcoal out to your car so you don't get your hands dirty!
I come from a hospitality background and have worked for some of the top chefs in the USA. I have a passion for cooking, especially all things BBQ, to the point where a few mates and I formed our own BBQ competition team. When we're not competing on the Australian competition circuit, we're doing practice cooks on the weekend testing that new rub or sauce or technique we just heard about.
I enjoy working as part of the BBQ Spit Rotisseries team, especially finessing my BBQ competition smoking skills by cooking Friday lunches for the rest of the crew.
Online Content Curator
Hi, I'm Tobby Villasis and I suppose you can say that I do all things website related. In addition to listing new products to our website, I run daily tests to ensure our website is functioning as it's supposed to, list products to online marketplaces, edit product videos and maintain the integrity of our customer database.
I was born and raised in Oman so I grew up around cooking with charcoal. I have learned so much about BBQ since joining the BBQ Spit Rotisseries team and I now understand why my father is such a BBQ enthusiast. I must say that tend to eat a lot more now too!
Having studied computer science during my college years, I'm happy to have a job which allows me to utilise my skills while working in an industry that I love.
On the weekends I'm either spending time with my family and friends or out and about looking for a new joint to chow down at.
Jodie is the name and helping you charcoal barbecue is my game; I have followed my heart (or smell) to work alongside other barbecue maniacs to help you enjoy cooking as much as I do.
I work part time in our Sydney showroom in sales and customer service so if you come in store on Friday, Saturday or Monday, you'll see my smiling face and hear my infectious laugh.
I have spent the last 10 years working in both customer service and hospitality which has given me a variety of skills which I am happy to be putting to use with a passion of mine.
I personally think anything cooked over charcoal tastes amazing however my favourite would have to be lamb gyros. Nothing makes my mouth water like some lamb cooked to perfection!
Besides my love of all things meat and barbecue I am an avid Liverpool FC supporter and a crazy dog lady!!