About Us
History:
Almost two decades ago BBQ Spit Rotisseries was born from a passion for entertaining guests by cooking over charcoal on a spit roaster.
The passion for cooking incredible food for their family and friends ran in the veins of Tony & Rhiannon. However unable to find quality spit roasters in Australia that met their quality expectations they decided to do it themselves.
Their gamble paid off and BBQ Spit Rotisseries has grown into one of Australia's most loved barbecue retailers with a passion for all types of outdoor cooking and entertaining whether it be cooking in a Spit Roaster, Texas offset smoker, inside a wood-fired pizza oven or simple in a kettle bbq.
Our mission is to connect people and communities by creating great memories over cooking with fire. Read the BBQ Spit Rotisseries Mission
About us:
Welcome to BBQ Spit Rotisseries (BSR), the one-stop-shop for all your outdoor cooking needs. Offering a wide range of spits, BBQs, pizza ovens, charcoal BBQ's, fire pits and accessories, coupled with specialised knowledge, the best prices and unbeatable customer service, why go anywhere else? All products sold by BSR are of unbeatable quality and come with either a 12 or 24-month warranty.
As we have been designing, manufacturing and importing all of our spits and accessories since 2006 our processes and industry-leading technology have allowed us to continuously provide the best quality products at affordable prices. As our team is expertly trained we are able to provide customers with advice and service that larger generic stores cannot provide.
Our team loves all things BBQ so when you buy from us, you're getting advice from BBQ lovers who love nothing better than firing up the Q on the weekend. We are so passionate about BBQ, we also run BBQ Masterclasses to show you how to become the ultimate backyard BBQ hero.
We are a 100% Australian-owned business established in 2006 and design and manufacture our own products. We design products the way we know they are meant to be used to ensure customers have an incredible experience each and every time they fire up.
Prefer to see our products before you buy? BSR welcomes all customers to visit its warehouse where you will find all products on display and have specialist staff to assist you. We have 2 stores - Located in Seaford VIC, and Moorebank NSW. Our opening hours are 8.30am – 5pm Tuesday to Friday and 9am-3pm Saturdays (Closed Sunday and Monday).
For additional peace of mind, BBQ Spit Rotisseries offer a 60 day return policy on all products for a complete refund. We design products the way we know they are meant to be used to ensure customers have an incredible experience each time they fire up.
BSR are committed to ensuring all customers are completely satisfied with their purchases. Should you require any questions answered, want some reassuring advice, or prefer to place your order over the phone, the BSR team may be contacted on 1300 002 771. Unbeatable service is what we provide!
BBQ Spit Rotisseries is also committed to helping to protect the environment, being socially responsible and giving back to our community. Here are some of the initiatives we're currently doing to make a difference. Sustainability and Giving Back.
Can't find the product you are looking for? With extensive experience and business contacts within the industry, contact us and we will point you in the right direction.
Used and trusted by restaurants, butchers, BBQ schools & caterers Australia-wide
Customer Service Guarantee
When you join our BBQ Spit Rotisseries family, you are covered by our Customer Service Guarantee
We also have a 60-day money-back return policy in case you change your mind and your purchase comes with a 12-24 month warranty just in case something goes wrong.
What some of our customers have to say
Need Help?
If you need any help deciding which BBQ is best for you, give us a call on 1300 002 771 and we'll be happy to have a chat.

Prefer to see our products before you buy? BBQ Spit Rotisseries has showrooms in both Seaford VIC and Moorebank NSW. Visit the contact us page for the address and opening hours.
Can't make it in-store? Explore a 3D tour of Seaford Mega BBQ Showroom here:
Meet Our Crazy BBQ Team!
Rhiannon Peterson
General Manager
I'm Rhiannon and as well as being one of the founders of BBQ Spit Rotisseries, I have been the general manager since the business started back in 2006. In addition to overseeing that our customers are happy, I liaise with our suppliers, manage the finances, manage all our internal systems and processes, do lots of product testing and of course keep our amazing team in line!
I love cooking outside over charcoal and actually can't remember the last time I cooked a meal inside my kitchen. I particularly enjoy cooking gyros on the Cyprus or Mini Spits as they're easy to use on an almost daily basis. I also love smoked chicken wings cooked in the ProQ and also quite often throw a brisket in the Flaming Coals Gravity Feed Smoker before going to bed leaving it to cook overnight and be ready for lunch the following day
Tony Teboneras
Product Designer & Technician
My name is Tony and I am one of the founders and head product designer. Growing up, my parents owned a Greek restaurant so I grew up cooking whole lambs on the spit and grilling over charcoal. Back then, most spit roasters were made by the person using it from old drums for the base and windscreen wiper motors for the rotisserie. It wasn't until years later when I wanted to buy my own spit roaster that I realised there weren't any commercially manufactured spit roasters that were any good so I decided to make my own. 15 years later, I am proud that we have become the largest manufacturer of spit roasters in Australia and around 5 years ago, expanded our range to include meat smokers. The team has grown steadily from a part-time 2 person business to now have 12 full-time staff, 2 physical stores, multiple warehouses and our own offshore manufacturing plant that manufactures only for us. This gives us 100% control of the product development and quality assurance process, something that not too many Australian companies can boast that's for sure.
As well as designing new products and improving our existing products, I oversee our manufacturing team. Like most men, I believe a meal isn't a meal unless it has a large piece of meat on it so I'm always grilling something up for lunch and dinner. I enjoy being outdoors 4-wheel driving, hunting and camping and never go anywhere outdoors without a portable charcoal BBQ.
Michael Wilkie
Marketing Manager
Hi, I'm Michael and I oversee all our digital marketing operations such as taking new product photos, shooting/editing videos, scheduling social media posts, compiling blog posts and newsletters, managing online advertising, the list goes on! I have over 10 years of experience as a Digital Content Producer effectively managing all aspects of production from conception to completion. I studied film at the prestigious New York Film Academy (NYFA) and am a CASA certified drone pilot.
I am experienced in leading small teams and have the creativity necessary to effectively oversee the creative development of concepts. I love creating content that helps out customers become better outdoor cooks and of course, I don't mind eating the meat that comes off the BBQ either!
At home, I enjoy grilling steak and wings over charcoal using the Flaming Coals and Butchers Axe BBQ rubs.
Jason Bloms
Operations Leader
Hi, I'm Jason and I look after everything operations-wise here at BBQ Spit Rotisseries from our showrooms to warehouse/dispatching and customer service. Prior to BBQ Spit Rotisseries, I spent almost 20 years in the pizza industry so I'm happy I've come to a place that also sells Pizza Ovens, my area of expertise!
In my spare time, I enjoy renovating my home, playing field hockey and of course eating BBQ, which I do so well when we have cook-ups here at work! Chicken wings cooked in our rotisserie basket coated in the Flaming Coals Clucking Mad rub is my fav!
Kem Marimon
​Executive Assistant to the General Manager
My name is Kem and I have been working at BBQ Spit Rotisseries since mid-2015. My main job is to help Rhiannon with all the day-to-day administrative tasks such as bookkeeping, preparing reports, systemising and arranging customs clearance for containers arriving every couple of weeks. I also project manage all our events, promotions and pretty much whatever random tasks Rhiannon throws at me (trust me, there are a lot!).
I am really proud to work for a company like BSR where we all jump in and do whatever we can to help each other and our customers. Everyone from the top down is approachable and willing to help out with whatever is needed.
Of course, coming from a Filipino background, my favourite style of food is Lechon. Lechon is the most popular speciality pork dish among Filipinos. Lechon is originally from a Spanish term that means "suckling pig". Other than pork, Filipinos applied the Lechon roasting style to chicken (called "Lechon Manok"; "Manok" means Chicken) and other meats. At the weekend I enjoy watching tv variety shows, spending time with the family and of course, eat.
Russ McDougall
Fulfillment & Warehousing Manager
My name is Russ and I manage all things warehouse and product fulfillment, basically, everything coming in and out of our warehouses and stores. In between unloading containers every few weeks, stock arriving from our local suppliers daily and picking and packing all customer orders, I'm also likely to be the guy who helps you carry your new BBQ out to your car!
I come from a hospitality background and have worked for some of the top chefs in the USA. I have a passion for cooking, especially all things BBQ, to the point where a few mates and I formed our own BBQ competition team. When we're not competing on the Australian competition circuit, we're doing practice cooks on the weekend testing that new rub or sauce or technique we just heard about.
I enjoy working as part of the BBQ Spit Rotisseries team, especially finessing my BBQ competition smoking skills by cooking Friday lunches for the rest of the crew. I also manage our monthly demonstrations, classes, events & BBQ competitions and am often hanging out in the showroom helping new pitmasters take their BBQ to the next level.
Cameron Davidson
Sydney Store & Customer Experience Manager and Resident Pitmaster
Who the heck is this bearded guy? This is often what goes through people's minds when they first see me but let me introduce myself properly. My name is Cam and I'm the manager of the BSR Sydney showroom and the guy who runs all the BBQ Masterclasses and cooking demonstrations in Sydney. I'm also the really helpful and friendly one you're likely to chat with over the phone, by email and through the live chat function through our website.
I have worked for over 15 years in the retail industry and decided that shopping centers weren't for me anymore. I wanted to follow my love and passion for Low 'n Slow BBQ and work in a job where I could talk about BBQ all day, help people experience the amazing flavours that can only be achieved when cooking with charcoal and wood. It all started when I went to visit my brother who lives in Texas. My fiancé and I started in Tennessee and traveled down to Texas stopping at just about every BBQ joint we could. From then on, I was hooked. I came home, bought myself a smoker and haven't stopped cooking since.
I love the fact that I get paid to help people get into BBQ, cook at work, record video content for our social media posts and help people take their BBQ game to the next level.
Doug Johansson
Seaford Showroom Sales Representative
Greetings BBQr's my name is Doug and I'm here to assist you will any sales & product advice questions you may have. Coming from a catering background has provided me with the opportunity of cooking with a large range of spit & BBQ types (many of which we carry online and in-store) ranging from stick burning offsets, drum smokers, Cyprus spits, pellet smokers, gravity feed smokers etc. I also have a passion for Salumi & sausage making as well as cold smoking and meat dry-aging/curing.
It's hard picking a favourite style but if forced I'd probably lean towards American low and slow purely for its smoky goodness and fork-tender meats.
In my spare time, I like to relax by listening to music (big audio and vinyl collector), watching movies and spending time with family & friends.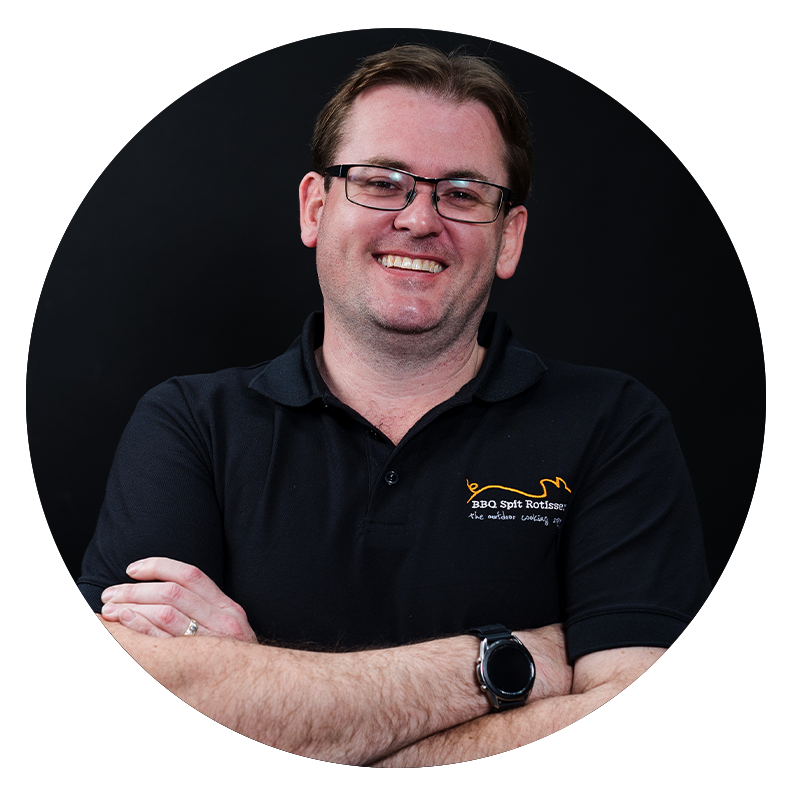 Cameron Brewer
Seaford Showroom Sales & Wholesale Account Manager
Hey, I'm the "other Cam". After more than 15 years in the hospitality industry, I decided to change gears and head in a different direction, but where? I am an enthusiastic backyard cook with a passion for craft beer; I have found myself working with a great bunch of people that love to talk about all things BBQ. I am not as experienced as some of my cohorts, however, what knowledge I do have I am more than happy to pass on. I'm here to help in any way I can and maybe nick the occasional recipe idea.
Annie Hindrak
Warehouse and Fulfillment
My name is Annie and I come from a hospitality and nursing background. I started working with BBQ Spit Rotisseries in 2018 demonstrating products at various outdoor expos.
Nowadays I mainly work in the warehouse picking and packing orders, restocking incoming goods, keeping the showroom well-stocked and just like Rhiannon, keeping the boys in line!

At home, I love cooking on my Extendable Spit, Cyprus Spit and Auspits. I love getting crackling on roast pork and even cooking desserts on the Cyprus spit such as cinnamon sugar-coated apples.
I've bought quite a few Flaming Coals and Auspit products over the years for family and friends and they all love them!
Alex Marimon
Graphic Design and Marketing
Hi, I'm Alex and I assist Michael with all things marketing. My varied role consists of designing marketing material for both print and online, preparing our weekly newsletters, social media posting, designing product packaging, creating website banners, buying guides and managing registrations for our in-store demonstrations and classes.
Growing up, I loved playing computer games which inspired me to go on and study IT at college. I enjoy being part of such a great company culture that always helps and supports one another, and most importantly the service we give to our customers.
While I love my job, it can be tough editing all our amazing cooking videos and putting together recipe cards without feeling hungry! My favourite food to eat is Filipino-style pork Lechon. After work and on weekends, I enjoy spending time with my family and friends, watching movies and playing computer games.
Raxsoller Malayte
Customer Service Team Leader & Webmaster
Hi, I'm Rax! In addition to ensuring our customers have the best possible experience when shopping with us, I suppose you can say that I do all things website and marketplace related. I run daily tests to ensure our website is functioning properly, list and manage products on online marketplaces, manage new website builds and tweaks, and maintain the integrity of our customer database. Like everyone in the team, I help out with all the random administrative tasks and special projects Rhiannon throws at us!
I have learned so much about BBQ since joining the BBQ Spit Rotisseries team. I'm happy to have a job that allows me to utilise my skills while working in an industry that I love.
On the weekends I'm either spending time with my family and friends or out looking for a new joint to chow down at.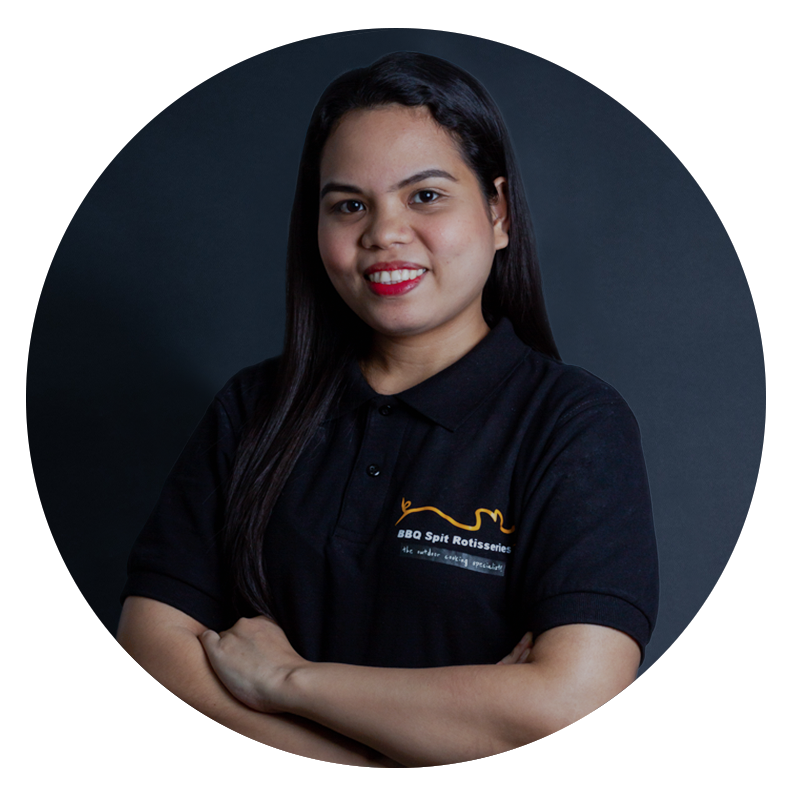 Jazzle Mapile
Finance & Marketing Assistant
Hi, I'm Jazzle and my role varies A LOT!. My tasks vary from listing new products on our website, uploading videos on our youtube channels and writing descriptions and subtitles to ensure that customers get detailed information about our products to make the best purchasing decision. I also help our with book-keeping and facilitating the importation of stock from our suppliers.

I joined the team in late 2020 and I can honestly say I am so happy to be part of team BSR. Everyone is so nice and jumps in to help one another when it is busy. I have learned so much since starting here and I am grateful for how supportive the business is to help me take on more responsibility and enhance my skills.
During my spare time, I enjoy playing with my daughter and spending time with my husband and family.
Jade Domingo
Customer Service Representative
My name's Jade and I do all things customer service such as emails, arranging freight, live chat, phone calls, social media and every other way you want to reach out to us. Previously, I've worked in customer service for another online business and am committed to providing reliable quality service to our customers.
Back in my hometown, everyone gets so excited whenever Lechon (roasted suckling pig on a spit) is being served -- I mean who wouldn't? It tastes absolutely delicious, especially the crispy skin!
Joining the BBQ Spit Rotisseries is fascinating because every day I get to learn more things about how customers fire up our products and what special family/friendly gatherings they're catering for. It is truly fulfilling to see our mission of "creating magical moments between family and friends" being continuously attained.
Outside of work, I enjoy spending time with my family and friends, hanging out and eating outside. I also like watching SciFi movies, documentaries, and dance choreography videos, as dancing is one of my interests.
Cristine Wright
Customer Service Representative
Hey, I am Cristine and I help look after all things customer service to ensure we maintain an exceptional customer experience for you. I have 5 years of customer service experience across different industries such as real estate, academics and finance.
Growing up and on every special occasion, I remember my father would put a pig or some chickens on a spit with my uncles. I'm excited to bring my customer service experience and my enthusiasm for roasting to our customers at BSR.
On my days off, I love volunteering, singing, baking and hunting down roasted pigs and chickens to chow down on.