BBQ Master Class Recap - Sydney November 4 2018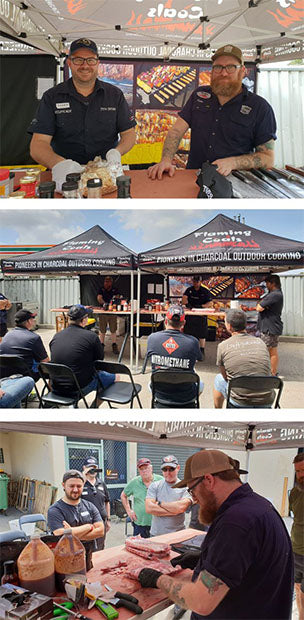 Last weekend, 12 aspiring cooks took full advantage of BBQ Spit Rotisseries' last Sydney based Masterclass for 2018 and were treated to an expert demonstration at our Moorebank store.

The masterclass attendees witnessed a showdown between BBQ professionals, learning hints and tips about beef, pork, chicken and ribs in the process; one attendee even came all the way from Bundaberg in Queensland! Mark Welch, also from the Flaming Coals BBQ Team, joined Cam on Sunday for the presentation.

The audience treated like competition level judges, got a great inside look at preparing and presenting dishes as well as cooking them. Everyone also received an informative rundown on the different types of smokers, as well as which to use in each circumstance.

Despite the Sydney heat, it was a fantastic day, with great conversation and beverages to boot. Everybody left with a great goodie bag to share with their loved ones, as well as the imparted knowledge from the day's events!

Friendships were forged, loads of fun was had, and most importantly everybody left with new understandings of BBQing, plus a full stomach!

Interested in attending one of our Masterclass events? We would love to have you along! Please register your interest here.
by: Rhiannon Peterson
---