---
What can I spritz meat with while smoking?
We're here again to answer common questions that we often get asked in-store and online.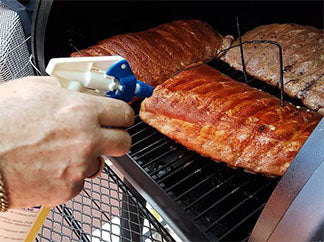 We often get asked what the best spritz is when smoking in the offset or any other smoker. What I tend to use is apple cider vinegar but water will work as well, or a 50/50 mix. It is important to spritz the meat every half hour to 45 minutes to prevent it from drying out. It also adds a coating that allows the smoke to travel over the meat and stick to it. Because the surface is slightly cooled by the liquid being spritz on, any sugars in the rub are also cooled down slightly which prevents the rub from turning black.
Check out our delicious smoking recipes and How to guides
For more hints and tips, make sure you download our recipe guides.
Want to get hands-on experience on how to prepare awesome BBQ from experienced pitmasters? Check out the dates for our upcoming BBQ Masterclasses and in-store demo's in our Sydney and Melbourne stores.
By: Cameron Davidson
---