---
Deluxe Foukou Cyprus Grill Spit - 3mm Thick - Flaming Coals
Cyprus Grill Spit - 3mm thick with upgradable motor

More info.
Make 4 payments of $149.75 over 8 weeks and get it now!
Deluxe Cyprus spit charcoal grill model with all the bells and whistles including an extra-thick 3mm body plus stainless steel charcoal pan. The must-have versatile charcoal bbq for your balcony.
Cyprus Grill Spit - 3mm thick with upgradable motor
Model: SP010-13A
This Deluxe Foukou Cyprus Grill Spit - 3mm thick is the best quality Cyprus Grill Spit around with extra features such as an additional stainless steel charcoal pan, a warming rack, simple height adjustment, 10mm diameter long skewers, 5mm diameter kebab skewers, basket, 2 gyros disks and 2 chicken prongs.
Suitable for:
Chickens, rolls of meat, roasts & gyros

Kebabs

Charcoal BBQing/ Brazilian BBQ

Steak, chops, sausages
Delicious Chicken wings cooked in the Cyprus Spit Rotisserie
Barramundi and Prawns cooked in the Cyprus Spit Rotisserie
Specifications:
NOTE: Some of the images shown were shared with us by happy customers who may have purchased additional accessories in addition to the standard inclusions. Only the parts listed below are included
3mm gauge thick body

Free Stainless steel charcoal tray

2 x 12/240v 13kg rated motors. Alligator clips and transformer provided. Alternatively, you can upgrade to a

15kg 12/240v motor or

25kg rated 240volt motor.

3 x 10mm thick, 750mm long skewers

12 x 5mm thick, kebab skewers

2 x small roast prongs for the long skewers

2 x gyros disks for the long skewers (150mm round diameter)

1 x basket for the long skewers (350mm long - adjustable in width)

1 x cooking grill that is also height adjustable when you are not using the 3 long skewers

4 x wheels

Easy height adjustment functionality

Extra shelf to add stability/warming rack

Side handles for easy movement

Removable legs for easy transportation

All gears in the gear mechanisms are moulded using advanced technology powdered metallurgy and protected using Dacromet coating. This ensures they are the most durable bbq gear mechanisms on the market, far superior to the common aluminum gears.

24-month warranty on motor / 12-month warranty on spit body. Warranty terms and conditions
Charcoal pans are not covered by warranty. Charcoal pan usage guide
Note: Some photographs in this product listing may include additional accessories that aren't included in the package but can be purchased separately
Dimensions:
Firebox/cooking area: 72.5cm (L) x 34cm (W) x 10.5cm (D)

Total: 104cm (L) x 60cm (W) x 125 (H - max) 94cm (H from the ground to the top of the fire box.

The 3 large skewers sit another 20cm higher)

Gauge steel: 3mm thick

The legs are removable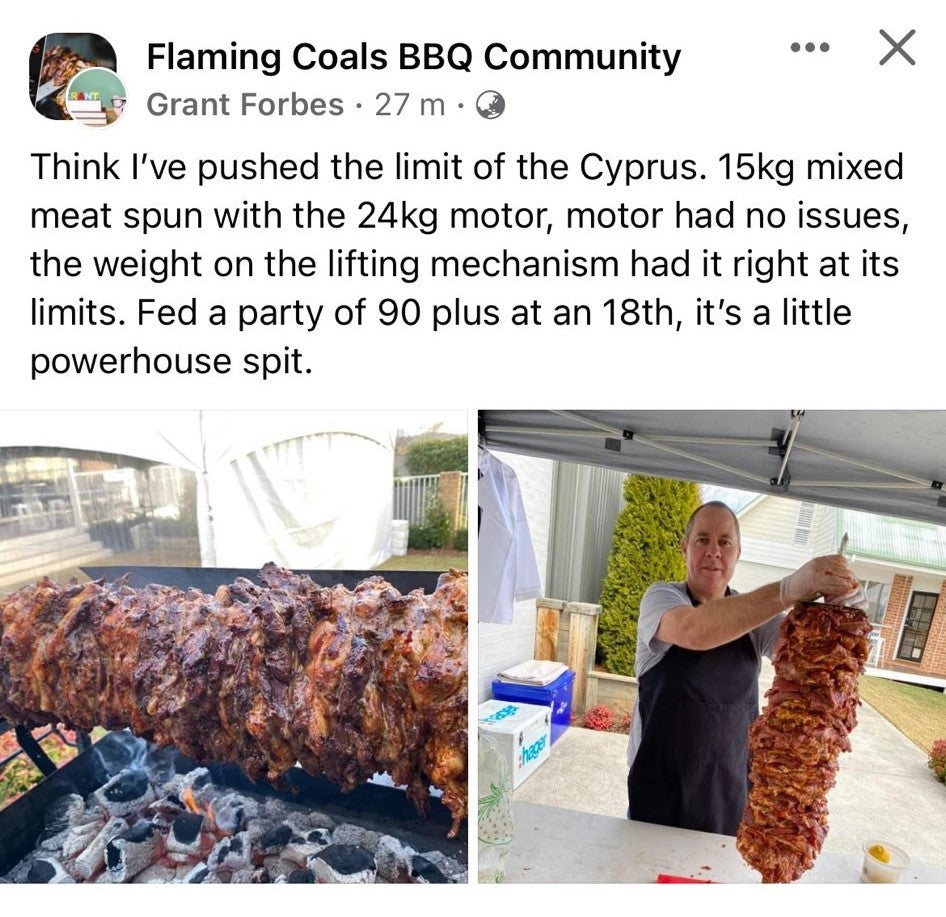 Others claim that their spits are manufactured in Europe, does this make our model inferior?
We originally imported spits from Europe but quickly found out that these units did not meet the quality and expectations of the Australian consumers (and mine). At this stage, we redesigned, manufactured and thoroughly tested a tweaked Cyprus spit model that we are still selling today. The deluxe model SP010 is part of the Flaming Coals Cyprus Spit range that far exceeds the quality and features of other brands at the time of writing this. Some benefits of this model over its similarly priced competitors include:
Wheels - making it easier to move

Taller legs - making it hip/waist height rather than knee height

Lever height adjustment - rather than fiddling with wingnuts when it is boiling hot and burning yourself

Height adjustable grill - so you can barbeque at various heights

Powdered metallurgy gears for strength and longevity

5mm kebab skewers rather than 2.5mm

10mm Long skewers rather than 8mm

Warming rack to keep your cut gyros warm

Additional stainless steel charcoal tray for added protection of the body and making it easier to clean out the ash

Stainless steel skewers and accessories so you don't need to worry about the chrome plating peeling off over time
Sold Separately
Rotisserie Basket | Round Cage Tumbler
Want the peace of mind that your BBQ will arrive on time for your special event? All orders placed before 2 pm are dispatched the same day, are shipped with tracking using reputable couriers.
We don't believe in just selling you a BBQ and letting you figure out how to use it on your own.
We're here to guide you every step of the way with our phone support, website live chat, on-site technician, 12-month body / 24-month motor warranty period on all Flaming Coals and Auspit branded products, 100's of videos, recipes, informative blog posts and how-to guides to help you get the most out of your new BBQ.
Still not convinced?
We invite our customers to review our products and services regularly and we're very happy to say our feedback scores are excellent across multiple platforms.
Want to know more about who you're buying from?
Read more about us and meet our crazy mad team of barbecuers who love nothing more than to chew the fat helping turn customers just like you into the ultimate backyard BBQ hero.
Additional/Replacement Grill for this spit can be found here - Model: SSGR010 - Stainless Steel BBQ Grill 715mm x 330mm.
Flaming Coals Deluxe Cyprus Grill Spit: The Ultimate All-in-One BBQ
Charcoal BBQs by Flaming Coals
Cyprus Spit Rotisseries by Flaming Coals
Happy Fathers Day from Flaming Coals
Flaming Coals Cyprus Spit 25kg Capacity Rotisserie Motor Review
Why we Love Our Flaming Coals BBQ
Flaming Coals Deluxe Cyprus Spit Assembly
Flaming Coals Cyrus Spit Product Overview
Which Spit Roaster is right for me?
Flaming Coals Cyprus Spit Review by the Australian BBQ Alliance
Easy Backyard BBQ Recipes
How to Cook Picanha Steak on the Deluxe Cyprus Spit
How to spit roast with two rotisserie baskets! | Cyprus Spit Secrets!
Lamb Skewers on the Cyprus Grill Spit
How to Cook Pork Belly in a FlamingCoals Cyprus Basket
Cyprus Spit Roaster | Flaming Coals
Incredible Pork Belly Bao Buns
How to make Greek Chicken and Lamb Gyro and Homemade Tzatziki using a Flaming Coals Cyprus Spit
How to Cook Amazing Barramundi on a Spit Rotisserie
How to Cook Delicious Prawns on a Spit Rotisserie
Best Wings Recipe - How to Cook SUPER Tasty Chicken Wings
Our Favourite Spit Rotisseries
Flaming Coals Cyprus Range
Flaming Coals Deluxe Cyprus Spit
Flaming Coals Cyprus Spit Charcoal Grill Product Video
Flaming Coals Cyprus Spit Testimonial
Flaming Coals Cyprus Spit Testimonial 2
Flaming Coals Cyprus Spit Customer Review
How to Cook Salmon on a Spit Rotisserie
How to Rotisserie Crispy Pork Belly Bites
| | |
| --- | --- |
| SKU | SP010-13A |
| Model # | SP010-13A |
| Barcode # | 9348676000360 |
| Brand | Flaming Coals |
| Shipping Weight | 34.3000kg |
| Shipping Width | 0.390m |
| Shipping Height | 0.320m |
| Shipping Length | 0.910m |
| Shipping Cubic | 0.113568000m3 |
| Unit Of Measure | ea |
| Assembled Length | 0.300m |
| Assembled Height | 0.890m |
| Assembled Width | 0.370m |
| Type | Spit Rotisserie |