Flaming Coals Mini Spit Roaster A Huge Hit
Australia's Favourite Mini Spit Roaster - Flaming Coals Mini Spit Roaster
The Flaming Coals Mini Spit Roaster is fast becoming Australia's favourite mini spit roaster with more than 2000 of these units being sold since its release almost 2 years ago. As you can see in the short video below, the Flaming Coals Mini Spit Roaster is suitable to cook everything from just a small roast to up to 3 roasts, or simply a charcoal BBQ.


The mini spit roaster comes with either a battery (3v) operated motor suitable for cooking up to 8kgs, or a 240v motor suitable for cooking up to 10kgs. I quite often get asked how long the batteries will last. While I haven't actually timed it, to give you an idea we had one running for more than 30 hours at the Melbourne Home Show and it was still running. Of course, it is best to have a spare pair of batteries just in case, but I've certainly found the battery-operated motor to be more than sufficient. I think some customers may have been burned in the past from cheap battery-operated motors purchased from large hardware stores that tend to burn out after one or two uses hence why we give customers the option to upgrade for free to a 240v motor just to give them peace of mind.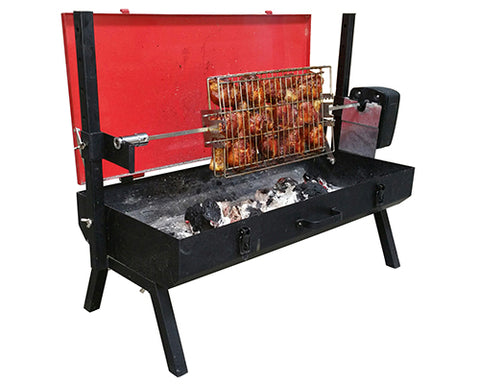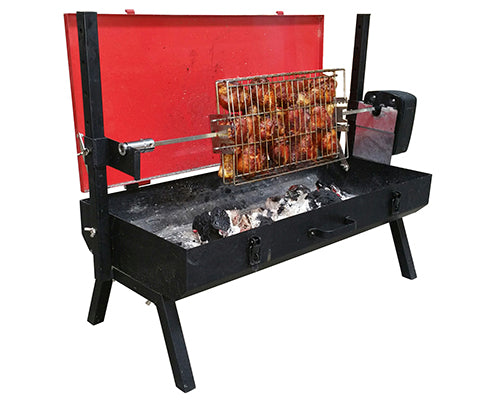 I've personally cooked legs of lamb, whole chickens, gyros, pork shoulders and turkey and countless charcoal BBQs on the grill. We take it to friends' houses, and camping and have given a couple as engagement gifts to some very happy friends.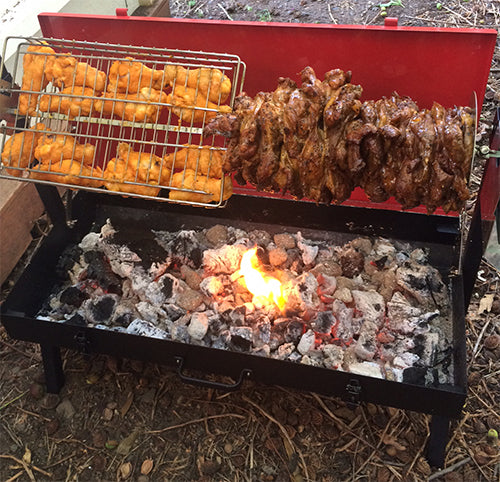 While I don't mind cooking with the mini spit roaster directly on the ground, I know some customers like to prop it up on a table or some brickwork to give it some more height which works just fine.Being such a portable unit, it is ideal for taking camping or over to friends houses.
As I've shared with you in previous blog posts, we have our own manufacturing facility in China that manufactures to our specifications. We have in the past made some mini spits for large Australian companies with their own logo on the lid for them to either give away for promotional purposes or sell through their retail outlets. If you are in business and have any interest in purchasing at least 100 of the mini spits, we can add your logo to the lid just like we did for a Carlton Mid promotion and Stones promotion.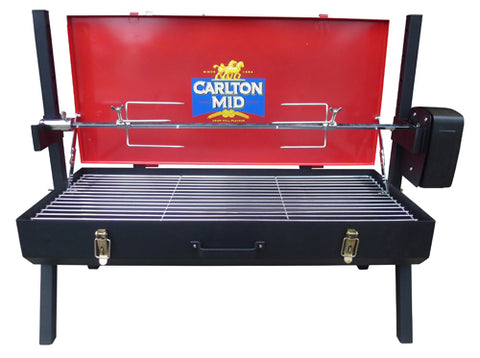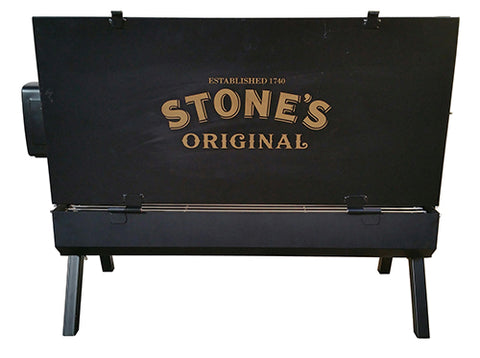 by: Rhiannon Peterson
---
---