Kosmos Q Rub Range
BBQ Spit Rotisseries has the best range of rubs available locally, and we now introduce the Kosmos Q rub range. These rubs are a great addition to your arsenal whether you're a backyard barbecuer or you cook at competition level.
First is one of my favourite rubs to use on steaks and briskets, the Kosmos Q "Cow Cover". You can describe it in two words - "red and rich". With the distinctive taste of chilli pepper, garlic and onion, this rub gives a depth of flavour that will surely be loved by the judges; and the most important judges of course are your family and friends!
Next on the list is the "Dirty Bird" rub. This is traditionally used on chicken, however lately I have been using it on pork ribs because it gives amazing colour and really nice flavour. Contains a red peppery kick, a little bit of heat but nothing too crazy.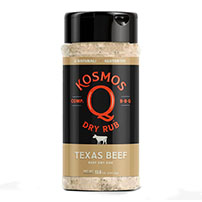 Next is the "Texas Beef", Kosmos' version of the traditional SPG (salt, pepper and garlic rub). It goes really great on veggies as well as brisket, however can also be enjoyed on seafood. Don't let the name fool you, this rub is not just for beef, it is for everything!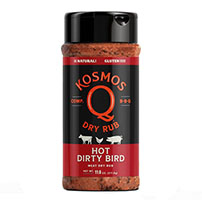 The "Hot Dirty Bird" is not for the faint-hearted. This rub has got some heat!
Really great on chicken wings if you want to spice it up and make your own buffalo style wings!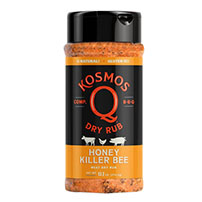 The last in the shaker range is the "Honey Killer Bee". This one is a competition favourite with a lot of BBQ teams around the world. I love using this rub on ribs, pork shoulders, chicken etc. It has a savoury taste that comes from honey powder. It is really versatile and offers something unique.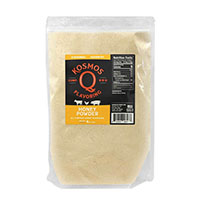 A cool addition to the range is the "Honey Powder". It can be used a sweetener or flavouring for all of your BBQ Rubs. I also use this as a finishing dust to ribs, giving the quick sweetness of honey.
Now last, but certainly not the least, is the "Killer Chipotle Honey Bee". This one is very similar to the killer bee but a little more heat from the chipotle. If your taste buds can handle being deliciously confused, then you need to try this out.
Make sure to check out all these great rubs and get ready for your next cook. You can see the full range here.
By: Cameron Davidson
---