Putting HotRods to the Test Against Some of the Best
Recently Flaming Coals launched its new HotRods Hexagonal Charcoal and we couldn't wait to fire up and give it a go.
After several successful cook ups in a Cyprus Spit Rotisserie, an Offset Smoker and a ProQ smoker, it was clear that HotRods produced high heat, little smoke and burnt clean for hours. Impressed with the overall quality and performance, we decided to put HotRods to the ultimate test. Tony, our Product Engineer was tasked with comparing HotRods against other types of charcoal, testing specifically for temperature over a 6 hour period. I wanted to see how HotRods will compare against other types of charcoal or briquettes available on the market.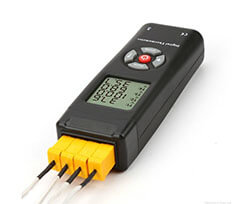 Now, Tony is the type of guy who likes to get all scientific when it comes to testing, so he was definitely the right man for the job, and as expected, he took it very seriously.
After purchasing a Thermocouple Thermometer with a data logger that can automatically measure the temperature at specific intervals via computer, we were ready to go. Next, we had to decide which charcoal to test and settled on the following;
Flaming Coals HotRods

2 brands of Briquettes

2 Brands of Coco Shell Briquettes

2 Brands of Hexagonal Logs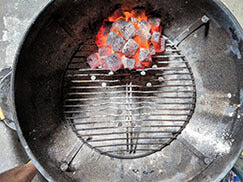 CONSISTENCY IS THE KEY
Next, we needed to determine how to test the same amount of charcoal in each batch in order to compare apples with apples. We couldn't exactly count the number of briquettes or hex logs because they are all different in size and shape. Ultimately it was decided that the fairest most consistent way would be to weigh 1.5kg of each type of fuel and place in an 'indirect' cooking position using a kettle bbq with top and bottom vents open.
To ensure an accurate and consistent reading, the thermometer probes were placed and fixed at the exact same 'cooking height' on the grill for each test. The position of the probes was where you would place the meat if you were to cook a roast. The data logger was set to record the temperature at 5-minute intervals. A
chimney starter
was used to light the charcoal by placing it on top of a gas burner for exactly 20 minutes per batch.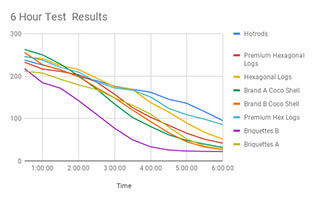 OVERALL TEST RESULTS
After 6 hours, the Flaming Coals HotRods recorded a temperature reading of 95.1°C, with the closest being the Hex Logs at 51.4°C. The 'worst' performance was

the 'traditional briquette' recording a temperature of 22.1°C after 6 hours.

When you average the temperature out, Flaming Coals HotRods averaged 176°C, Hexagonal Logs 161°C, Coconut briquettes 133°C, and Traditional Briquettes 128°C.
The results are depicted on the chart on the right.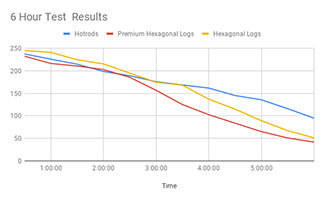 HEXAGONAL LOG TEST RESULTS
Flaming Coals HotRods outperformed both brands of Hexagonal Logs during the test. Both were premium brands that are marketed as quality products and cost significantly more per kilogram than HotRods. After six hours there was a noticeable difference in temperature with HotRods recording a reading of 95.1°C, Hexagonal logs 51.4°C and Premium Hexagonal logs finishing at 42°C. As you can see by the yellow line on the graph, the Hexagonal logs burnt slightly hotter than HotRods for the first three hours but then lost heat rapidly for the second half of the test.
TRADITIONAL BRIQUETTE TEST RESULTS
HotRods are not moulded using glues or starches, rather they maintain their shape from being put under extreme pressure during the production process giving you a 100% natural charcoal product. This is unlike traditional briquettes that can contain sawdust, sodium nitrate, accelerants and other chemical nasties that binds them together or improve ignition.
As you can see by the results on the right, traditional briquettes performed poorly overall. Traditional briquettes have a distinctive smell and taste that can penetrate and affect the flavour of your BBQ. The Flaming Coals HotRods are low smoke, clean-burning charcoal that will not alter the flavour of your food. If you want a smokey taste, you can add your desired flavoured wood chunks separately.
It is worth noting that the yellow line represents a premium brand of briquette that performed significantly better for the first four hours of the test than the other brand we tested. So, if you prefer to BBQ using Briquettes, it is worth paying more for a premium product if you want a longer burn time and higher temperature.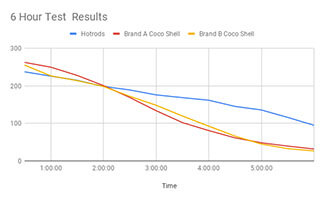 COCONUT SHELL BRIQUETTES TEST RESULTS
Although Coconut shell briquettes are marketed as a more natural alternative to traditional BBQ Briquettes, they could not compete on time or temperature with HotRods. As demonstrated in the graph on the left, the temperature of the coconut shell briquettes started to fall significantly after the 2-hour mark. If you're only planning on doing a quick cook, 2 hours of burn time might be enough, but if you're looking at cooking low and slow, then you will need to top up more regularly.
What did we learn from our experiment?
Hexagonal Charcoal Logs, whether it's HotRods or the other brands we tested, outperforms both coconut and traditional briquettes. Tests also showed that if you want a quick, very hot burn, break the HotRods into smaller 10cm pieces. For a longer, slower cook, keep your HotRods at their regular size and you will be good for at least 6 hours or more.
The results speak for themselves, HotRods burns longer and hotter than many other brands of charcoal on the market and a little definitely goes a long way. At $29.95 for a 7.5kg box, Flaming Coals HotRods represent great value for money.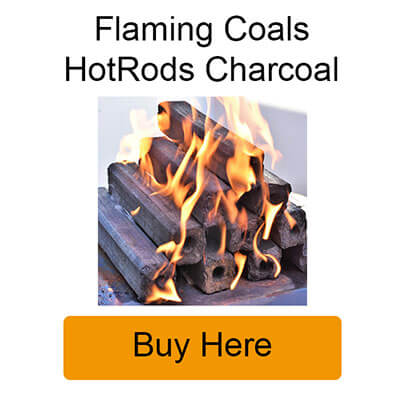 ---