The Rise of the BBQ Podcast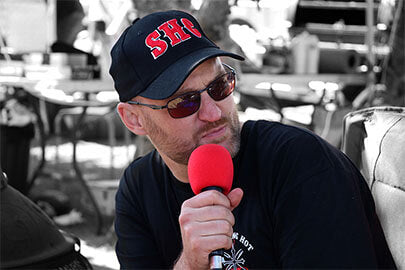 What an age to be alive! Technology has advanced in such a way that humankind now has access to things we've never had before. We have cars that can park themselves, we can travel from one side of the world to the other in a matter of hours, and we all carry a supercomputer in our pockets that have more computational power than was needed to put humankind on the moon. This latest advancement has given us perhaps the greatest gift in the history of humanity: the BBQ podcast!
All exaggeration aside, BBQ podcasts are on the rise, following the increase in popularity of podcasts in general. Not familiar with podcasts? Let me fill you in.
What is a Podcast?
A podcast is like a radio program. It's audio-based and can be played on a variety of devices. And like radio programs, podcasts come in all shapes and sizes and cover all kinds of topics. In fact, you can find a podcast on just about any topic you can think of. But why are podcasts so popular?
First of all, podcasts are internet-based, and in this modern society, anything online is cool. However, there's a lot more to it than this. As they are hosted online, they are on-demand, which in this current Netflix-era, is a huge draw. This allows you to be in total control: you can decide what you listen to and when. Naturally, you now have access to a whole new level of multi-tasking. Hate washing dishes? Put your favourite podcast on, and you won't even notice you're doing it. Walking the dog, housework and waiting for kids to finish their extra-curriculars all become awesome with podcasts. Finally, as mentioned before, there is an unlimited variety of podcasts available. There are fictional dramas, comedies, interviews, sports, business shows and so much more. Oh, did I mention that 99.9% of podcasts are free?
Listening in has never been easier. If you're on Apple, there is a native app built into every Apple device. It's called 'Apple Podcasts'. If you're on Android, check out the 'Overcast' app. Once installed, do a search for any topic and you'll find a list of shows and episodes. Find one you like and give it a listen. If you like it, click 'Subscribe' and everytime a new episode is released, you'll be notified that it's waiting for you to listen when you're ready. Many podcasts, including the Smoking Hot Confessions podcast, are available on audio-streaming services such as Spotify. And don't forget about Bluetooth - if you can play music from your phone through your car stereo, you can play a podcast.
BBQ Programs on Podcasts
So, what's out there in the world of BBQ podcasts? There are 3 common formats of BBQ podcast: The first is what I refer to as the 'Weekly Chat Show'. This is where the host or hosts interview a special guest. The guest might be a BBQ competitor, promoter or someone from the world of BBQ business. Episodes are typically published weekly and run from 30 minutes to an hour.
The second type is what I call the 'BBQ Program'. These shows differ in that they will have 3, 4 or even 5 guests on for shorter periods of time, and may include other segments like listener call-ins, reviews and more. These shows typically run around the 2-hour mark and more resemble a traditional radio drive-time program than an individual show.
At Smoking Hot Confessions, episodes are released in series, where each series focuses on a different aspect of the world of BBQ. For example, Season One was called 'Comp Ready' and focussed on what people would need to know if they wanted to get into Competition BBQ. Season Two was called 'Living the Dream' and each episode was a deep-dive into the different BBQ businesses that you could get into. The upcoming Season Three is my 'U.S. Road Trip' and chronicles my recent journey through Texas, Louisiana and Arkansas, including representing Australia at the World's BBQ Championships in Houston. Between seasons, I release episodes recorded live at various BBQ festivals and competitions around Australia.
So just how big are BBQ podcasts? Earlier this year, the National BBQ & Grilling Association (an American organisation focussing on the business of BBQ) had their annual Excellence Awards and Conference in Fort Worth, Texas. For the first time, podcasts got their own category in the Digital Media division. The NBBQA examined the range of BBQ podcasts out there and awarded prizes accordingly. Smoking Hot Confessions was very proud to come in Second Place in these awards. To be recognised by such a prestigious American organisation amongst such a high-calibre cohort of fellow podcasts was an absolute honour
So now it's over to you. Pull out your phone, or jump on a computer. Open up a podcast app, search for Smoking Hot Confessions and press that big 'Subscribe' button. Then, hit up and subscribe to the list of winners from the 2018 NBBQA Digital Media: Audio Series awards. Then light some coals, crack a cold one, and join us as we explore the world of BBQ in our own unique ways.
by: Ben Arnot
---