---
Pork Belly Burnt Ends
If you haven't tried pork belly burnt ends, you are missing out big time! They are bite size pieces of juicy, fatty, packed full of flavour pork. My mouth is watering just thinking about it.
From start to finish, it takes around 4 hours to make the perfect pork belly burnt ends. I like to run the smoker at around 225F, however you can achieve similar results if you cook a bit hotter 250-275F and this will reduce your cooking times.
Step 1
Start with a piece of pork belly, all bones removed. This was a 1.5kg piece
Step 2
Turn the pork belly over so it is easier to cut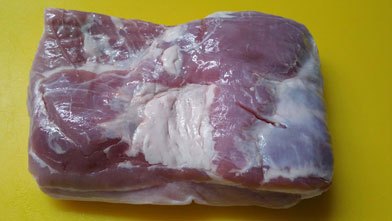 Step 3
Cut the pork belly into cubes around 1 inch square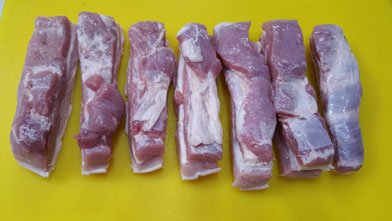 Step 4
Cover all sides of the pork belly cubes with your favourite pork rub. Here I used the Flaming Coals Greek Gyros rub. While not specifically a pork rub, it still worked a treat!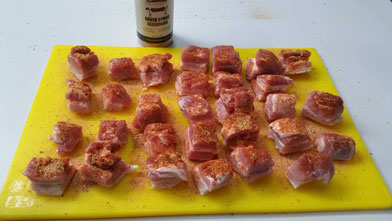 Step 5
Put the pork belly cubes into the smoker. I have the smoker running at around 225F and used acacia charcoal plus apple wood for the smoky flavour.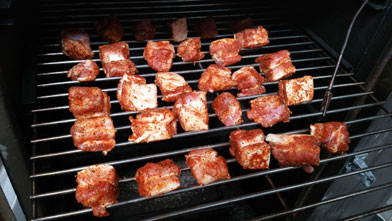 Step 6
Check the squishiness of the pork belly after 3 hours to see whether the fat has rendered. If you want to take the opportunity to pinch one for a taste test, who am I to judge!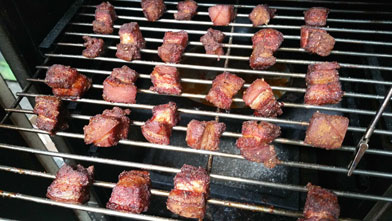 Step 7
Once the pork belly fat has rendered, put the cubes in an aluminium foil tray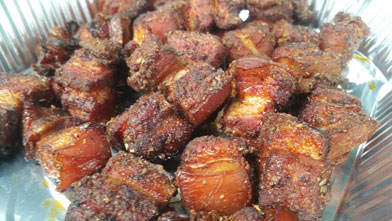 Step 8
Choose a nice sweet sauce to douse the pork belly burnt ends in. On this occasions I chose Lanes Kinda Sweet which in my opinion is liquid gold. If I could pour it on my cereal in the morning, I would!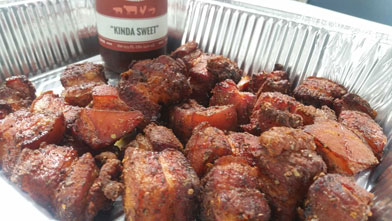 Step 9
Pour a liberal amount of sauce over the pork belly burnt ends and cover all the surface areas. Put back into the smoker for 30 minutes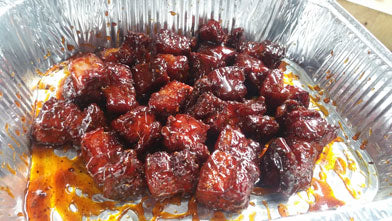 Step 10
Remove the pork belly burnt ends from the smoker and enjoy.don't forget to post photos on social media or it DIDN'T HAPPEN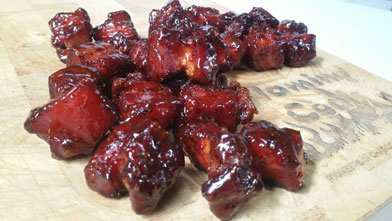 Check out more delcious smoking recipes and How to guides
Want to take your barbecuing to the next level? Why not consider attending one of our BBQ Masterclasses It's an action packed day including all you can eat BBQ.
by: Rhiannon Peterson
---