Spicy Smoked Chicken Wings
Ingredients:
2kgs Chicken Wings

2 tablespoons Cajun seasoning

2 tablespoons butter

2 tablespoons minced garlic

500ml hot BBQ sauce, or a sticky bourbon sauce.
Procedure:
Light the smoker and get it to consistent 105 degrees C.

Once the smoker is up to temperature, add the wood chips or chunks to get the smoke rolling.

Coat the chicken wings with around 2 tablespoons of cajun seasoning or as much needed to coat the entire wing.

Put the wing in the

smoker

and continue to monitor the temperature to main the heat at around 105 degrees C.

While chicken wings are smoking, combine the butter, minced garlic and another 2 tablespoons of cajun seasoning in a saucepan over medium-low heat.

Cook and stir until the butter is melted, which take around about 1 minute.

Stir hot sauce into the butter mixture; simmer, stirring occasionally, until sauce has thickened, for around 25 minutes.

After the wings have smoked for 2 hours, remove the wings from the

smoker and baste with the hot sauce/butter mixture.
The last step is to crisp up the skin on the chicken wings and caramelise the sauce. If using an offset smoker, put a cooking grill over the coals in the firebox and chargrill your wings for a couple of minutes either side. If you're not using an offset smoker, light a BBQ and cook the wings for a couple of minutes either side.
HOT TIP:
The sauce can be made ahead of time and kept in the fridge for up to 2 weeks. Simply reheat before basting the wings.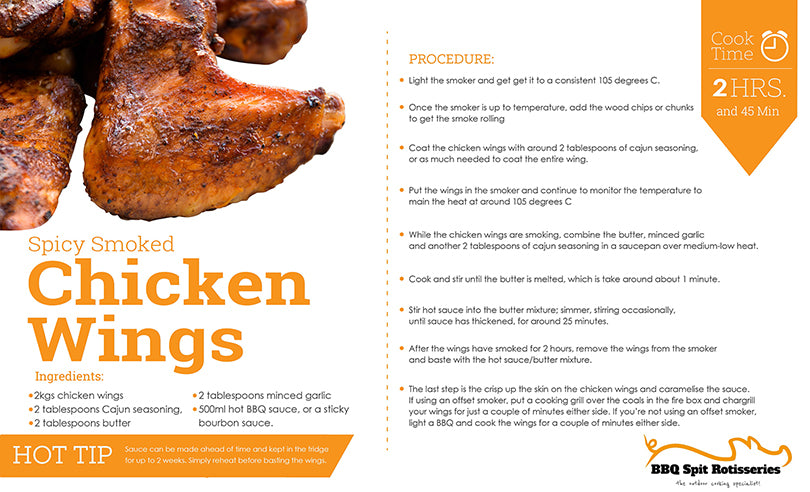 Check out more delicious recipes here:
Want to get hands-on experience on how to prepare awesome BBQ from experienced pitmasters? Check out the dates for our upcoming BBQ Masterclasses and in-store demo's in our Sydney and Melbourne stores.
by: Rhiannon Peterson
---