Kosmos Q Wing Dust Range
Here at BBQ Spit Rotisseries, you can find a wide range of rubs, sauces and seasonings for your cooking pleasure. One of the best brands we have is Kosmos Q and now we introduce their amazing wing dust seasoning range.
First in the line up is the "Honey BBQ Wing Dust". Many go for this one when trying wing dust for the first time. With it's sweet taste you can enjoy the American honey BBQ flavour. It is also versatile, so don't think you can only use this on wings; you can use this on your Veggies, Sweet Potatoes, Ribs and Popcorn as well.
Next one is the hottest in the range - the "Buffalo Hot Wing Dust". I want to remind you that this one is super hot. It went in my eyes when I opened the packet and is quite a pain, so please be careful when opening! I love this one, the perfect fiery flavour is great for those of you who can handle the heat. Test this out and it will surely change the way you experience chicken wings.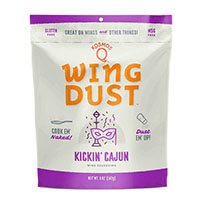 Next, the "Kickin' Cajun Wing Dust". This dust harnesses the power of spicy Creole cuisine; sweet, savoury and just the right amount of heat. Definitely not as hot as the "Buffalo Hot" dust.
Last but not least is my favourite - the "Salt & Vinegar Wing Dust". This one is amazing on popcorn, on chips and especially on your wings.
The process of cooking with these dusts is pretty simple. Just cook the wings completely naked, then once cooked, toss them in a bowl and mix with your choice of Wing Dust flavour, and that's it! You can now enjoy your meal.
Make sure to check these Wing Dust varieties in our store and keep in touch with us.
Check out these recipes using the Wing Dust:
Check out more of our recipe blogs.
By: Cameron Davidson
---