Top 10 BBQ Christmas Presents
Oh no! It's that crazy time of the year again where we go through the agonising process of making a list of everyone we care about and then brainstorm what that perfect Christmas present is. Alcohol, socks, shirts and vouchers have been done time and time again, not only by me, but by my siblings, so just what is that perfect Christmas present?
I'm not sure about yours, but my family members love showing off and pretending to be a backyard BBQ hero so what better Christmas present than a BBQ or unique BBQ related gadget.
We're all time poor fighting traffic, trying to find car parking at shopping centres and getting driven mad by Christmas carols, so I've done the research and product testing for you to make your decision as stress-free as possible.
It's easy to make wings, french fries, and so much more right on the grill with Flaming Coals Rotisserie Basket | Round Cage Tumbler. The Rotisserie Basket's rod ports fit most rotisserie rod styles and locks in place two thumbscrews. Once you've created the most delicious wings, crispiest fries, and grill roasted veggies without the addition of oil, the stainless steel baskets clean up easily, then nest for space-saving storage.
If you are looking for a basket that you can cook vegetables, chestnuts, spuds or even wings on your rotisserie, then the Flaming coals Rotissie basket - Round cage tumbler is perfect and compatible with most compact spits such as the Jumbuck, Mini Spit or even the Rotisserie on your gas BBQ.
Whether you are cooking Chicken Gyros or preparing Briskets and Steaks or even craving Lamb dishes, Ultimate Rub pack is all you need. Including all three Flaming Coals rubs, The Ultimate Rub pack will help improve any mean dish no matter what mean you want to season. If you are planning a cook in your backyard with family and friends, grab this Rub pack and you will be completely covered.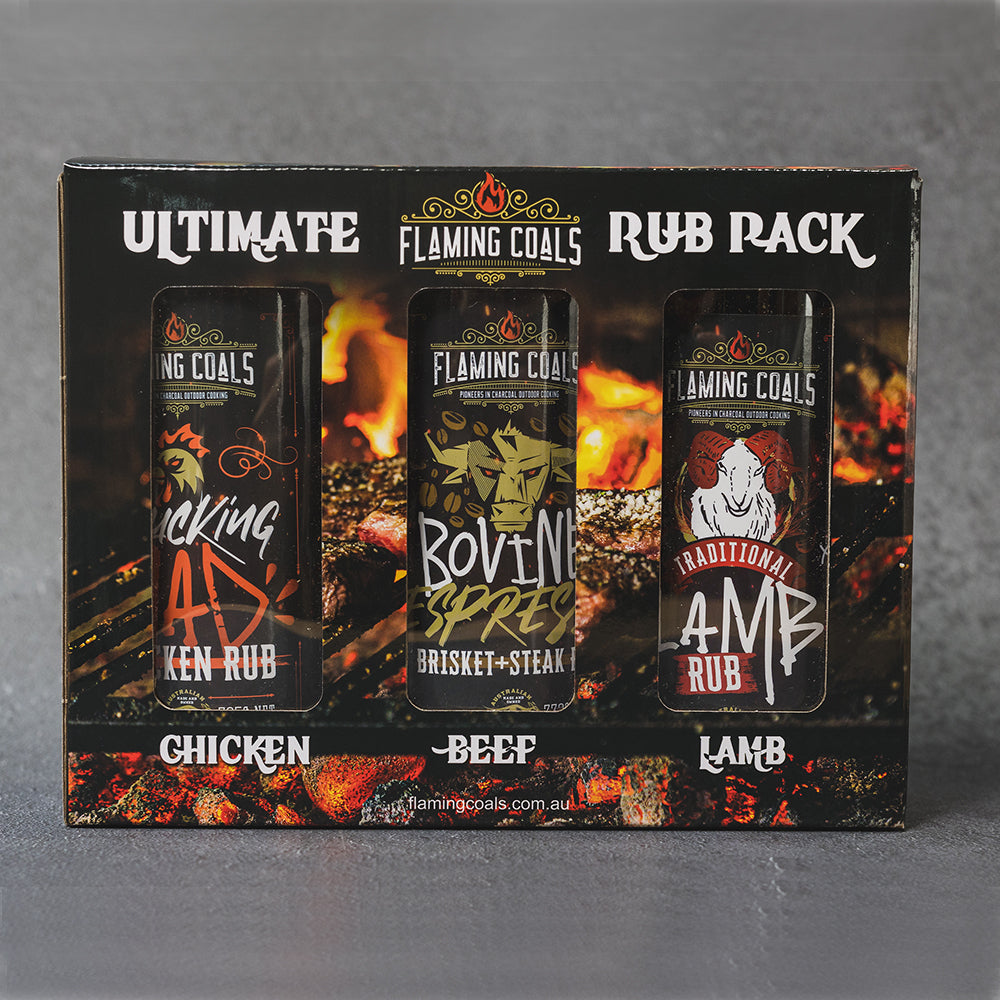 If you know someone already right into BBQ smoking, get them the ultimate BBQ Christmas present with this dual probe remote digital thermometer. Insert the temperature probes into 2 roasts, set your desired temperature and walk away knowing that the receiver will set off an alarm when your meat reaches the target temperature. Ideal for use with BBQ meat smokers where cooking times are often 5 hours plus, or for anyone notorious for either undercooking or overcooking the meat. It really is a foolproof way of perfecting the BBQ, without letting them know that their culinary skills need refining!
If you currently own a Weber Kettle, Pro Smoke or any other 57cm round Kettle BBQ and you are looking for the spit rotisserie kit to suit your Weber, then the 57cm Kettle Rotisserie Kit is the best value for money kit on the market. It comprises of an adaptor ring that makes it compatible with 51- 58.8cm kettle BBQs, a round ring insert that sits on your Kettle BBQ base, a solid 1 piece 8mm skewer, 2 prongs and a 240v motor rated to 8kg balanced load.
Now you can use your 57cm, 22" Kettle as a smoker, charcoal BBQ and a rotisserie. This spit kit will let you spit roast mouth-water pork, chicken or beef. Nothing beats meat that has been constantly self-marinated in its own juices as it slowly rotates above the charcoal, the kettle|weber rotisserie kit will give you the equipment to cook these delicious meals at home.

This is an excellent BBQ Christmas present for anyone who dreams of being able to cook a whole lamb or pig on a spit over a roaring open fire. Whether they like to go camping, have a built-in fire pit at home, or loves to make up their own BBQs, this portable spit roaster will be perfect. Complete with the 2 side legs, it can straddle over an open fire, 44-gallon drum and pack away into a compact carry bag for transport. The motor can be operated using either a car battery or plug directly into a powerpoint.
How good has your family been this Christmas? Crown them the ultimate pitmaster by giving them the Porsche of smokers. Complete with stainless steel cooking grills, tri-temperature gauges, probe holes for his thermometers, heat management plates, charcoal racks and so much more, you'll be their favourite person forevermore. Better still, you'll get to enjoy the mouthwatering slow-cooked meats they smoke. This smoker can also be used as a charcoal BBQ for quicker cooking times.
The Auspit Basic Portable Rotisserie Package is battery operated and can cook up to 8kg of meat. It is unique, easy to use and comes with all the basics you need for your outdoor camping cooking.
You can swing it away from the fire to carve, adjust or based your meat. It is also portable and easy to set up. Great for weekends away!
This three-piece cast iron pan set is a great gift for the backyard barbecuer, the camper and the home chef. These cast iron pans have great heat retention, keep a constant temperature and can give that perfect sear on a steak. The 3 different sizes mean you'll always have one for the job at hand and be able to fry up the ultimate camp-style breakfast.
Does your gift recipient get bored and love things to be multi-functional? If so, the Flaming Coals Deluxe Cyprus Spit is worth considering. This spit roaster is an all in one solution which allows you to char-grill, cook kebabs on the 12 small skewers, or cook a variety of meats on the large skewers such as chickens, legs of lamb, gyros, roasts or even vegetables. It has dual motor functionality allowing them to cater for up to 50 all using this one spit roaster.
10.SNS Grills - Slow 'N Sear Kettle BBQ
The 22" 57cm Slow 'N Sear Kettle BBQ is the most adaptable kettle grill out there! It has been designed to give you the best performance you can get from a Kettle BBQ. It has been built using high-quality coating and material for longevity, plus is designed to work with the Slow 'N Sear® accessory (sold separately) for unrivalled searing strength, low 'n slow smoking, and true two-zone cooking. This is a high-quality Charcoal Kettle BBQ and the best alternative to a Weber kettle.
Still not sure what's the best Christmas present? Check out the list of products we've prepared for you to help you in your decision-making, here. Why not get a gift voucher? Just click the button below to see available gift vouchers.
by: Rhiannon Peterson
---