Mini Spit in Size, but Packed Full of Features
"Update: It's that time again, and our Fathers Day Sale is bigger than ever.
An example where size isn't everything!
With Fathers day fast approaching on 6th September, many of us may be searching around to find a gift for dad other than the traditional boring socks and jocks. The trick I have found to keep a dad or a husband happy is to buy a cooking appliance which has multiple functions. That way, he won't get bored and only use the gift a couple of times before throwing it in the back of the shed.

Although mini in size, the Flaming Coals Mini Spit is packed full of features and is one of my personal favourites to cook on due to its versatility.

Now I know that every hardware store nowadays seems to be selling some form of mini spit, but don't be fooled, you get what you pay for! The horror stories I have heard of skewers snapping and motors melting will leave you cringing.
The pros
Firstly, this may be the feminine side of me coming out, but I love the fact that you have a choice of 2 colours. Personally I prefer the model with the red lid, but the black lid model has recently been released and has also been quite popular with one customer buying 170 of them for a promotion!
It weighs just 10kgs so it's easy to move around, throw in the back of the car or take camping. We quite often take the mini spit over to friends places for a cook up….maybe that's the reason they invite us who knows!
It's dead easy to assemble in just a couple of minutes with 3 wing bolts on each leg. I don't need a screw driver and even the most unhandy person can put it together single-handedly. I also like that it packs up into a brief case so you can throw all the accessories in, close the lid and just carry it by the handle.



The cons
It's low to the ground, but so are all mini spits. You can always prop it up on a benchtop if it worries you too much.

Limited to holding 10kgs of meat, however if you're wanting to cook for more than 30 people, you should go for a bigger unit



What can you cook?
Charcoal BBQ – use the accompanying stainless steel grill to cook a BBQ just as you would a normal BBQ, except you get the added flavour of cooking over charcoal.

Cook chickens, roasts or legs of lamb by using the small forks it comes with. To put the size into perspective, the Flaming Coals mini spit is long enough to cook 3 chickens at once so you can pack quite a bit on it.
Cook gyros (souvlaki style meat) by either using the small forks it comes with or get the gyros discs as an optional extra to make your life easier while carving. Learn more about cooking gyros
Cook veggies, fish or pretty much anything in the optional basket. The basket clamps onto the skewer and is adjustable in width so you can fit either thin pieces of salmon or butterfly
Check out one of our blog post as the Flaming Coals Mini Spit Roaster becoming a Huge Hit.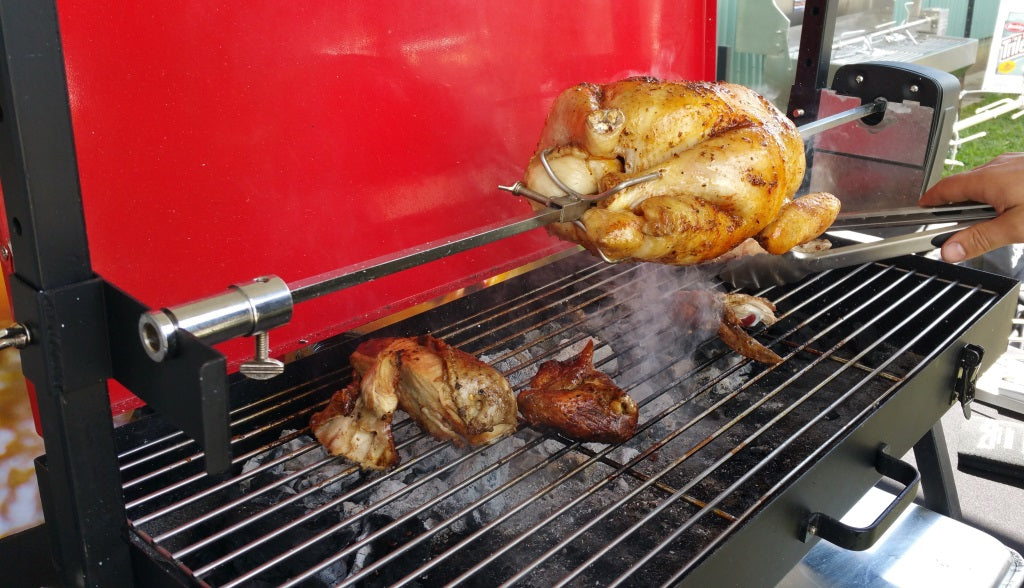 by: Rhiannon Peterson
---
---