---
Lemon & Rosemary Smoked Chicken
There are so many different types of meat you can cook in a smoker, that sometimes we overlook the simplest of cuts. A whole chicken is one of the easiest things to cook in a smoker. Shorter cook time, shorter preparation time and you don't have to travel to a speciality butcher to get a rare cut.
Ingredients:
1 Whole Organic Chicken

Rosemary Paste

Chicken Stock Cubes

Chicken Stock Liquid

Cherry Smoking Wood

Extra Virgin Oil
Procedure:
Mix 1 tube of rosemary paste, 1 rosemary sprig, 1 cup virgin olive oil, a pinch of salt & 1 squeezed lemon in a mortar.

Separate

the skin from the breast of the chicken with your fingers and apply some of the

mixtures

under the skin.

Brush the remaining mixture on the outside of the chicken.

Place rosemary sprigs, lemon slices and chicken stock cubes into the cavity of the chicken.

Place a handful of cherry chips in

an

aluminium

foil. The dull side facing inwards and the shiny side on the outside.

Light the charcoal and ensure the coals are whiting over before placing into the smoker. Do this about 30 minutes before you want to start cooking.

Melt a cup of butter and mix with 1 cup chicken stock.

Suck up with a marinade injector and inject into thicker areas of the chicken such as the thighs and breast.
Place chicken on the smoker and smoke at 110 degrees

Celsius

.

Check, baste and turn chicken around every hour.

After 3 hours, the internal temperature should be over 65 degrees

Celsius (Use Meat Thermometer to measure internal temperature)
Hot Tip:
Try smoking a chicken and keeping it moist by slowly smoking this whole chicken at a low and slow temperature of 110 - 120 degrees Celsius (225-250 degrees Fahrenheit).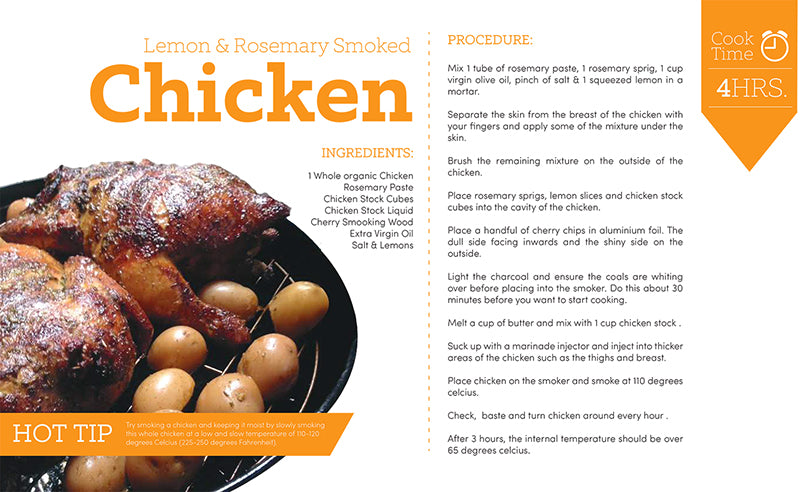 Check out more delicious recipes.
Want to get hands-on experience on how to prepare awesome BBQ from experienced pitmasters? Check out the dates for our upcoming BBQ Masterclasses and in-store demo's in our Sydney and Melbourne stores.
by: Rhiannon Peterson
---