---
Smoked Barbecue Rabbit
My partner Tony is hunter and often heads away shooting on the weekend for rabbits, quail, deer or ducks. A couple of weekends back, he returned with a few wild rabbits and rather than give them to the mother-in-law to slow cook them in a rich wine sauce, he decided to giving smoking a go. We've cooked wild rabbits over a spit, but never thought to smoke them.
After cleaning them up and then googling various recipes, this is what we ended up with.
Brine Ingredients:
2 Tbsp. Kosher salt

½ cup white vinegar

Water
Rubs:
1 Tbsp. garlic

powder

1 Tbsp. cayenne pepper

1 Tbsp. salt

1 Tbsp. black pepper

1 bottle of barbecue sauce
Directions:
Make a brine by dissolving the kosher salt into white vinegar. The instructions said to pour the brine over the rabbit in a shallow pot and add enough water to cover. Because Tony isn't one to follow directions, we poured the brine into a large vacuum sealed bag, added the rabbit and then vacuum sealed it leaving it in the fridge overnight.
Preheat the smoker to 200 degrees. Remove the rabbit from the brine and pat dry. Whisk together equal parts garlic, cayenne pepper, salt and pepper. Next season the rabbit heavily with the prepared rub.
Place the rabbit in the smoker and add hickory wood to the smoke box. After 15 minutes, mop the rabbit with barbecue sauce and repeat every 15 minutes.
After two hours, remove the rabbit from the smoker. Mop more barbecue sauce and serve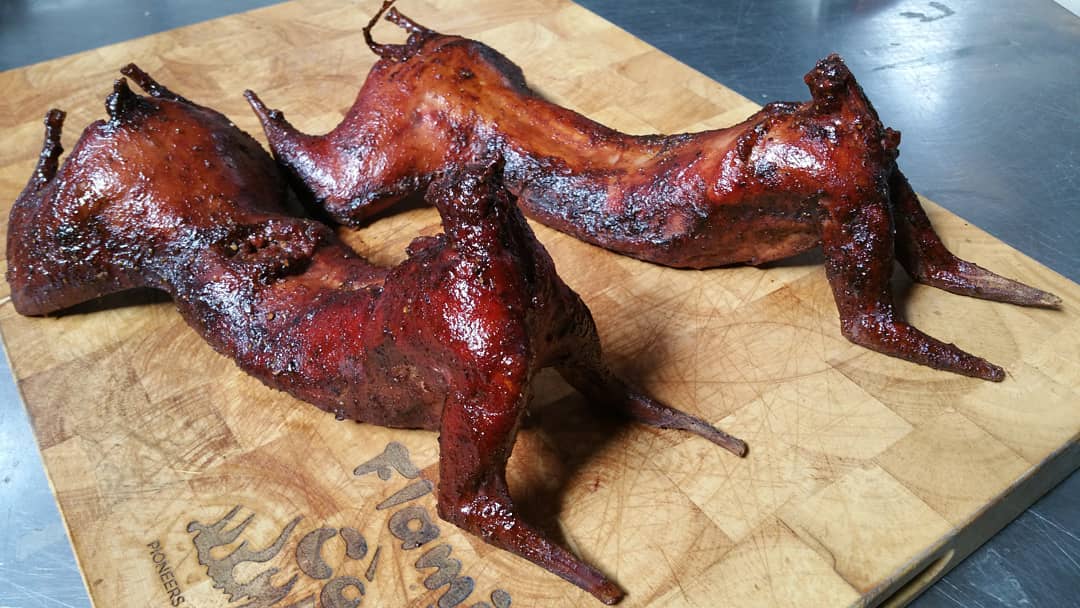 Smoked Rabbit
6x super berries
4x cloves
1/2 gallon of water
½ cup kosher salt
½ cup sorghum
1 head of garlic, cut in half
1 lemon cut in half
3 bay leaves
Bring all the ingredients to a bowl in a large pot and stir till the salt dissolves. Let the brine cool to room temperature before placing the rabbit in the brine. Brine the rabbit for 48 hours.
Remove the rabbit from the brine and dry completely. Place in a pan and drape a few slices of bacon over the rabbit. Heat your smoker to 225 degrees and add the apple wood chips, cook for about 4 hours or until the meat easily shreds of the bone.
Check out more delicious recipes.
Want to take your barbecuing to the next level? Why not consider attending one of our BBQ Masterclasses. It's an action packed day including all you can eat BBQ.
by: Rhiannon Peterson
---