Smoked Barbecue Rabbit
My partner Tony is hunter and often heads away shooting on the weekend for rabbits, quail, deer or ducks. A couple of weekends back, he returned with a few wild rabbits and rather than give them to the mother-in-law to slow cook them in a rich wine sauce, he decided to giving smoking a go. We've cooked wild rabbits over a spit, but never thought to smoke them.
After cleaning them up and then googling various recipes, this is what we ended up with.
Brine Ingredients:
2 Tbsp. Kosher salt

½ cup white vinegar

Water
Rubs:
1 Tbsp. garlic

powder

1 Tbsp. cayenne pepper

1 Tbsp. salt

1 Tbsp. black pepper

1 bottle of barbecue sauce
Directions:
Make a brine by dissolving the kosher salt into white vinegar. The instructions said to pour the brine over the rabbit in a shallow pot and add enough water to cover. Because Tony isn't one to follow directions, we poured the brine into a large vacuum sealed bag, added the rabbit and then vacuum sealed it leaving it in the fridge overnight.
Preheat the smoker to 200 degrees. Remove the rabbit from the brine and pat dry. Whisk together equal parts garlic, cayenne pepper, salt and pepper. Next season the rabbit heavily with the prepared rub.
Place the rabbit in the smoker and add hickory wood to the smoke box. After 15 minutes, mop the rabbit with barbecue sauce and repeat every 15 minutes.
After two hours, remove the rabbit from the smoker. Mop more barbecue sauce and serve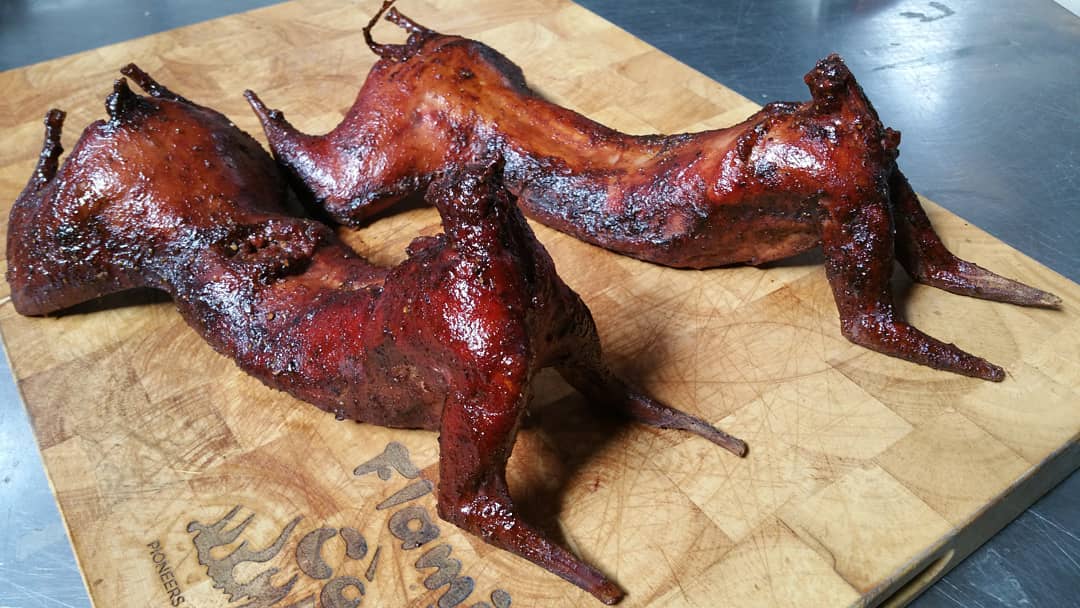 Smoked Rabbit
6x super berries
4x cloves
1/2 gallon of water
½ cup kosher salt
½ cup sorghum
1 head of garlic, cut in half
1 lemon cut in half
3 bay leaves
Bring all the ingredients to a bowl in a large pot and stir till the salt dissolves. Let the brine cool to room temperature before placing the rabbit in the brine. Brine the rabbit for 48 hours.
Remove the rabbit from the brine and dry completely. Place in a pan and drape a few slices of bacon over the rabbit. Heat your smoker to 225 degrees and add the apple wood chips, cook for about 4 hours or until the meat easily shreds of the bone.
For more delicious recipes Click Here.
Want to take your barbecuing to the next level? Why not consider attending one of our BBQ Masterclasses. It's an action packed day including all you can eat BBQ.
by: Rhiannon Peterson
---
Supporting members of the Australasian Barbecue Alliance
Copyright © 2022 BBQ Spit Rotisseries
ABN: 24633064311

Welcome to our website. If you continue to browse and use this website, you are agreeing to comply with and be bound by the following terms and conditions of use, which together with our privacy policy govern BBQ Spit Rotisseries's relationship with you in relation to this website. If you disagree with any part of these terms and conditions, please do not use our website.
The term 'BBQ Spit Rotisseries' or 'us' or 'we' refers to the owner of the website whose registered office is . Our ABN is 24633064311. The term 'you' refers to the user or viewer of our website.
The use of this website is subject to the following terms of use:
The content of the pages of this website is for your general information and use only. It is subject to change without notice.
Neither we nor any third parties provide any warranty or guarantee as to the accuracy, timeliness, performance, completeness or suitability of the information and materials found or offered on this website for any particular purpose. You acknowledge that such information and materials may contain inaccuracies or errors and we expressly exclude liability for any such inaccuracies or errors to the fullest extent permitted by law.
Your use of any information or materials on this website is entirely at your own risk, for which we shall not be liable. It shall be your own responsibility to ensure that any products, services or information available through this website meet your specific requirements.
This website contains material which is owned by or licensed to us. This material includes, but is not limited to, the design, layout, look, appearance and graphics. Reproduction is prohibited other than in accordance with the copyright notice, which forms part of these terms and conditions.
All trademarks reproduced in this website, which are not the property of, or licensed to the operator, are acknowledged on the website.
Unauthorised use of this website may give rise to a claim for damages and/or be a criminal offence.
From time to time, this website may also include links to other websites. These links are provided for your convenience to provide further information. They do not signify that we endorse the website(s). We have no responsibility for the content of the linked website(s).
Your use of this website and any dispute arising out of such use of the website is subject to the laws of Australia.
This privacy policy sets out how [@config:company_name@] uses and protects any information that you give [@config:company_name@] when you use this website.
[@config:company_name@] is committed to ensuring that your privacy is protected. Should we ask you to provide certain information by which you can be identified when using this website, then you can be assured that it will only be used in accordance with this privacy statement.
[@config:company_name@] may change this policy from time to time by updating this page. You should check this page from time to time to ensure that you are happy with any changes.
What we collect
We may collect the following information:
name and job title
contact information including email address and phone number
demographic information such as postcode, preferences and interests
other information relevant to customer surveys and/or offers
We do not retain credit card information. When purchasing online, your credit card information is encrypted so we do not see any of this information. When paying by phone or in store, your credit card details are entered directly into the EFTPOS machine so that it is not written down or retained in any way.
What we do with the information we gather
We require this information to understand your needs and provide you with a better service, and in particular for the following reasons:
Internal record keeping.
We may use the information to improve our products and services.
We may periodically send promotional emails about new products, special offers or other information which we think you may find interesting using the email address which you have provided.
From time to time, we may also use your information to contact you for market research purposes. We may contact you by email, phone, fax or mail. We may use the information to customise the website according to your interests.
Security
We are committed to ensuring that your information is secure. In order to prevent unauthorised access or disclosure, we have put in place suitable physical, electronic and managerial procedures to safeguard and secure the information we collect online. We have strict user access controls in place to ensure that a limited number of staff have access to your personal information
How we use cookies
A cookie is a small file which asks permission to be placed on your computer's hard drive. Once you agree, the file is added and the cookie helps analyse web traffic or lets you know when you visit a particular site. Cookies allow web applications to respond to you as an individual. The web application can tailor its operations to your needs, likes and dislikes by gathering and remembering information about your preferences.
We use traffic log cookies to identify which pages are being used. This helps us analyse data about webpage traffic and improve our website in order to tailor it to customer needs. We only use this information for statistical analysis purposes and then the data is removed from the system.
Overall, cookies help us provide you with a better website by enabling us to monitor which pages you find useful and which you do not. A cookie in no way gives us access to your computer or any information about you, other than the data you choose to share with us.
You can choose to accept or decline cookies. Most web browsers automatically accept cookies, but you can usually modify your browser setting to decline cookies if you prefer. This may prevent you from taking full advantage of the website.
Links to other websites
Our website may contain links to other websites of interest. However, once you have used these links to leave our site, you should note that we do not have any control over that other website. Therefore, we cannot be responsible for the protection and privacy of any information which you provide whilst visiting such sites and such sites are not governed by this privacy statement. You should exercise caution and look at the privacy statement applicable to the website in question.
Controlling your personal information
You may choose to restrict the collection or use of your personal information in the following ways:
whenever you are asked to fill in a form on the website, look for the box that you can click to indicate that you do not want the information to be used by anybody for direct marketing purposes
if you have previously agreed to us using your personal information for direct marketing purposes, you may change your mind at any time by writing to or emailing us at [@config:company_email@] or by calling 1300 002 771
We will not sell, distribute or lease your personal information to third parties unless we have your permission or are required by law to do so. We may use your personal information to send you promotional information about third parties which we think you may find interesting if you tell us that you wish this to happen.
If you believe that any information we are holding on you is incorrect or incomplete, please call, write to or email us as soon as possible at the above address. We will promptly correct any information found to be incorrect.
International Transfer of Personal Information
While BBQ Spit Rotisseries is an Australian based company, some of the contractors and third party consultants we use are located overseas. To allow these service providers to perform some functions on our behalf, we may need to disclose information to these service providers from time to time. We only disclose your information to these service providers where it is necessary for the services they provide to BBQ Spit Rotisseries. For the most part, these service providers perform a range of data entry tasks and tasks that do not require access to customer information. Under no circumstances are your payment details such as bank details or credit card numbers disclosed.
Shop Now. Pay Later.
100% Interest-free.
Simple installment plans available instantly at checkout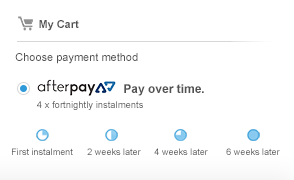 Select Afterpay as your payment method
Use your existing debit or credit card
Complete your checkout in seconds
No long forms, instant approval online
Pay over 4 equal instalments
Pay fortnightly, enjoy your purchase straight away!
---
All your need is:
1) An Australian Visa or Mastercard debit/credit card; 2) To be over 18 years of age; 3) To live in Australia
To see Afterpay's complete terms, visit https://www.afterpay.com.au/terms
© 2022 Afterpay