Cooking Crumbed Chicken on the ProQ Excel 20 Elite Smoker
Easy and Delicious Crumbed Noodle Chicken on the Pro Q Excel 20 Elite Smoker
Recently BBQ Spit Rotisseries cooked crumbed noodle chicken on the Pro Q Excel 20 Elite Smoker, which we wanted to share with you.
Cooking chicken in a smoker has short preparation and cook times...
By following these steps, you will have your delicious dinner or snack in no time!
The ingredients needed are flour, egg yolk, seasoning rub and crumb mixture containing the crushed noodles.
First season your chicken using the seasoning rub and flour.
Then crumb the chicken by hand using the egg yolk, crushed noodles and B&B Charcoal Texas Chicken Scratch seasoning rub which is added to the surface.
After coating, place your crumbed chicken in foil trays ready to be transferred to the smoker for cooking.
To fire up your smoker we recommend using Flaming Coals HotRods charcoal and a charcoal chimney.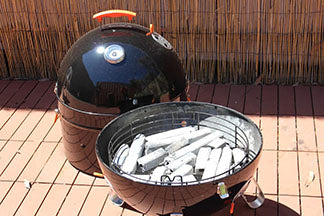 For info on the benefits of HotRods charcoal please see our post Putting Hotrods to the Test Against Some of the Best
After you have lit the charcoal ensure the coals are whiting over before placing in the smoker. Do this approx. 30 minutes before you want to start cooking.
Once the charcoal is ready in the bottom of the smoker with a wood chunk then place your crumbed chicken on the grill of smoker, and cook for up to 1 hour at 165°C.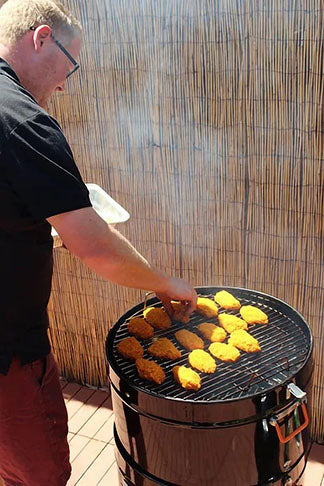 To accurately monitor the temperature of chicken whilst cooking we recommend using a thermometer with probe. We are using the Waterproof Digital Meat Thermometer with Folding Probe.
Remove your chicken once thoroughly cooked through then serve with your favourite sauce or melted butter. Enjoy!
Check out our recipe blogs for more delicious and easy dishes.
What you need:
By: Rob Shackles
---