How to cook a Ribeye Roast on the Flaming Coals Mini Spit
Why go to a steakhouse when you can make the most perfect ribeye right at home?
So skip the expensive steakhouse's. Skip the lines and the crowded tables. This ribeye has your name written ALL OVER IT.
All you need is a few ingredients, a good quality ribeye roast, a Flaming Coals Mini Spit and some Flaming Coals lump charcoal!
With a few simple steps, you will have a gorgeous steak crust and juicy meat that will topple any steakhouse.
Pair it with your favourite wine, serve with potatoes, salad and anything else you wish or just serve alone - it's all up to you!
Roast preparation -
Remove the excess fat from your roast, as well as removing the hard layer of fat remove the thin layer of silver skin as this won't reduce during the cook.
Once you've removed the excess fat it's time to apply the rub. Begin with a light seasoning of the Flaming Coals Bovine espresso. Ensure you cover all sides of the meat thoroughly. Now move on to our secret weapon Hardcore Carnivore's Black beef seasoning. Black will give you that INCREDIBLE colour and salty, peppery goodness throughout.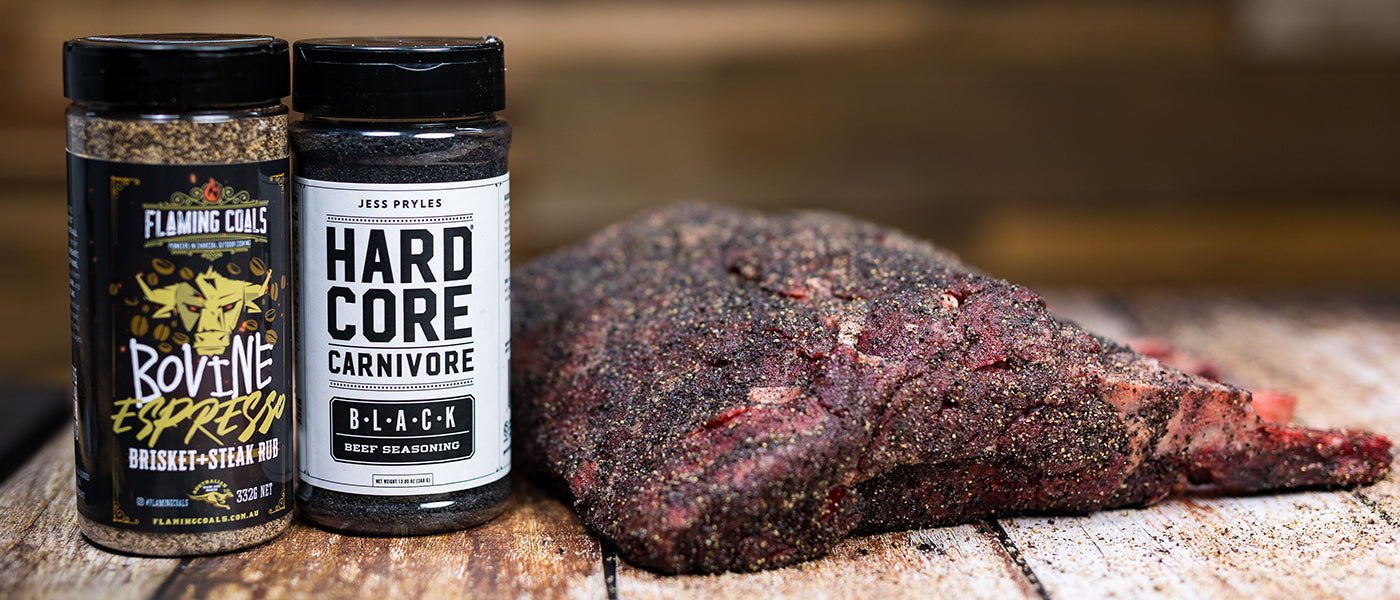 Charcoal preparation -
Fill a chimney with Flaming Coals lump charcoal and light using your preferred method. In today's cook we are using the Flaming Coals charcoal starter wand (CSW).
Once the charcoal has flamed over, empty the chimney into the base of the mini spit.
Skewer preparation -
To secure your ribeye roast throughout the cooking process use a good quality butchers twine to help the meat hold together.
Now insert the skewer through the roast and secure using the Flaming Coals chicken rotisserie prongs. Ensure the skewer is properly balanced to protect the gearbox in your motor. If your roast feels a bit wonky or begins to freefall we suggest investing in a Flaming Coals counterbalance weight CBW12, think of this as an insurance policy for your motor. As we properly balanced our meat this wasn't necessary for today's cook.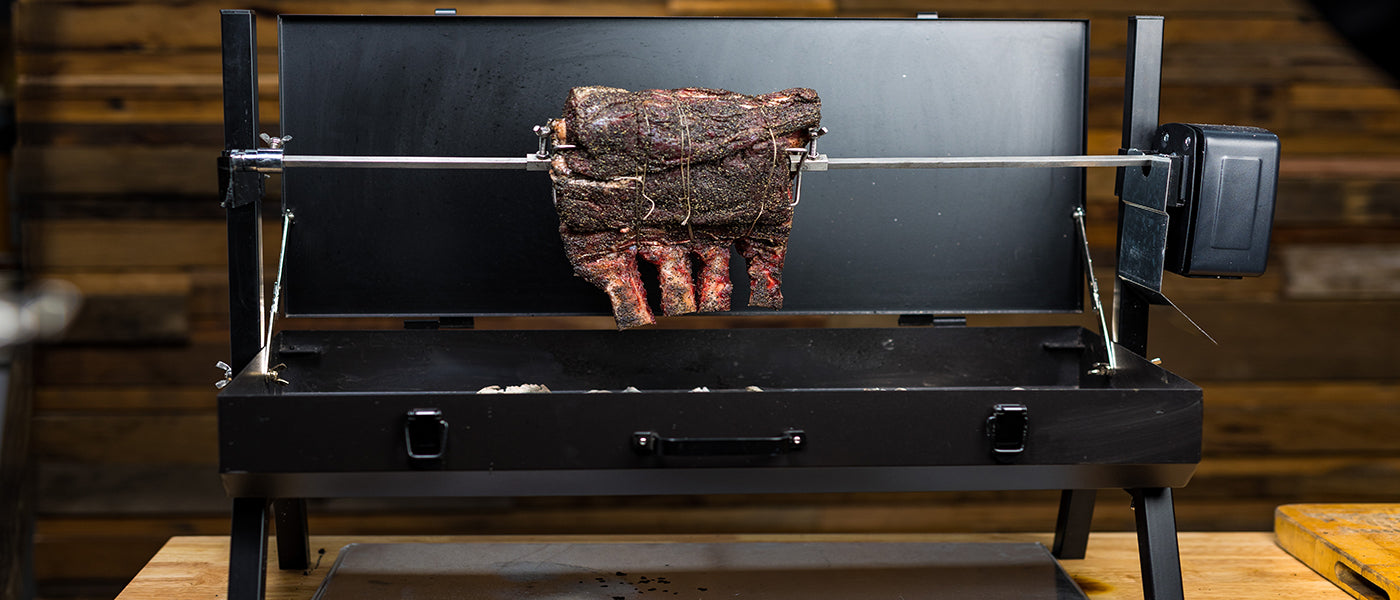 Place the skewer into the motor and bracket and begin spinning.
To find the required roasting height for maximum cooking efficiency, hold your hand below the meat over the coals. If you can just hold it there for 5 seconds your meat is loaded at the optimum height.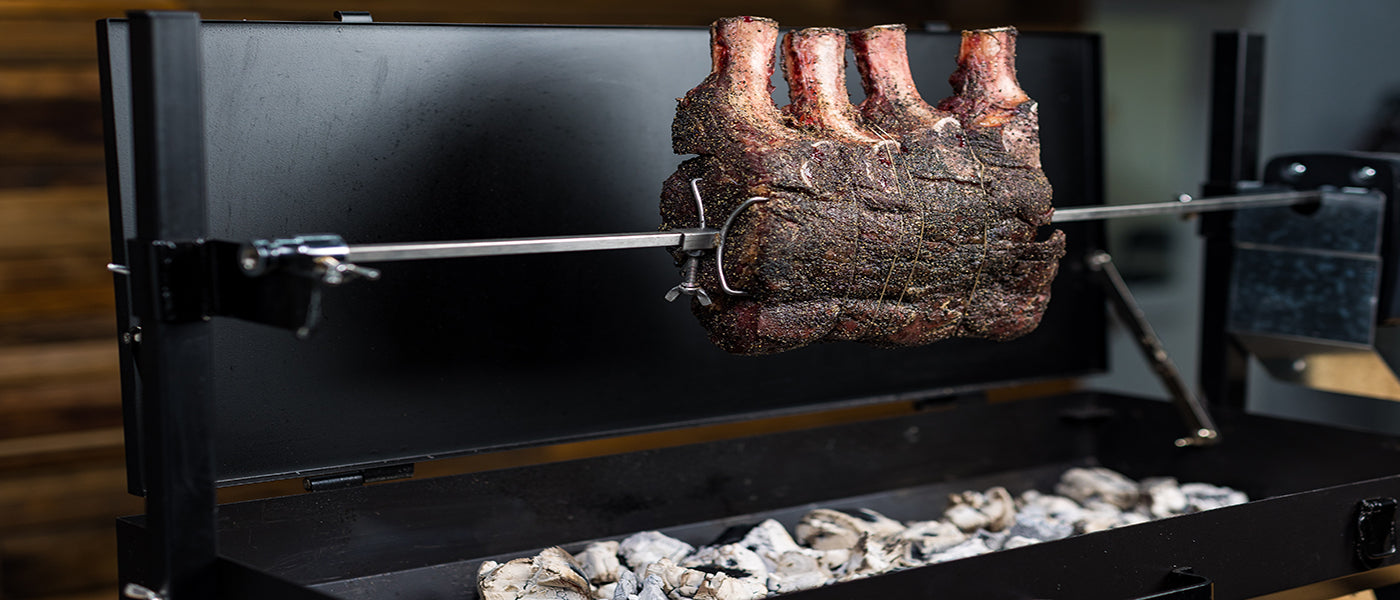 Remove your juicy, succulent roast when the internal temperature reaches 120f, allow to rest for 10-15 minutes before slicing.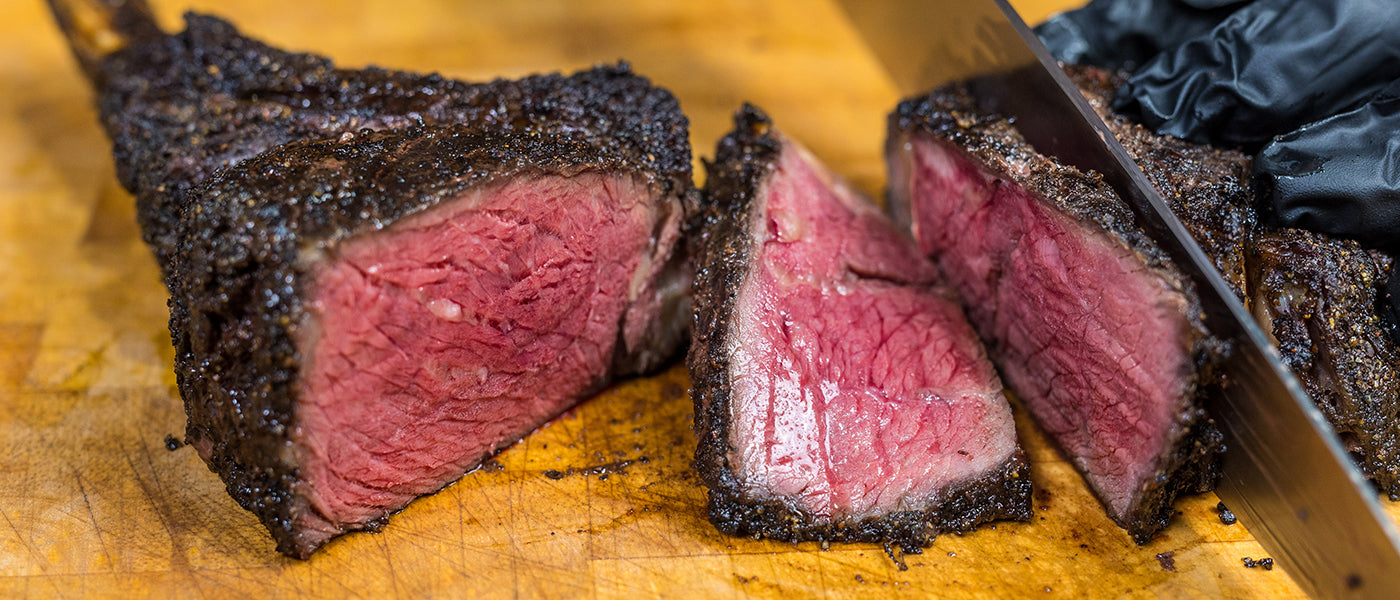 Place the supplied grill onto the mini spit roaster and place your steaks on. Grill on each side for 20-30 seconds until the internal temperature reaches a perfect 130f (medium-rare).

Serve immediately!
Check Our Range of Small Rotisseries: Click Here
by: Michael Wilkie
---