Flaming Coals Rubs and Sauces
Flaming Coals Rub and Sauce Range
The Flaming Coals team is always working hard on developing new and exciting rubs and sauces. This hard work truly paid off and we are proud to introduce to you to this amazing range.
Let's start with probably the most popular in the rub range, the "Flaming Coals Bovine Espresso". This rub is our version of the "salt and pepper" rub, a traditional Texas style rub but instead of sugar, this has a bit of espresso. The espresso will caramelise and add an amazing bark. It can also lock in the moisture without overpowering the meat. This is also quite versatile as you can use it on brisket, lamb, beef and beef ribs.
Another favourite is the "Flaming Coals Greek Gyro Seasoning". The secret recipe for this one has been passed down through the generations and preserved to this day. The flavour is so authentic that you will feel like you are dining in a restaurant in Greece. It is amazing on Chicken and Lamb Gyro, but you can also try it on seafood and vegetables.
The newest addition to the range is the "Flaming Coals Traditional Lamb Rub". This is a great spit roasting rub. It is a full flavoured blend of herbs and spices making it the perfect companion for all your lamb dishes. If you are cooking lamb of any cuts, whether on a spit, grilled or in the oven, this is the best one for you.
If you can't decide which of this amazing rub you like, we have the "Flaming Coals Ultimate Rub Pack". You can get it all three on the range and save you a little bit of money. This is also a great gift idea.
"Flaming Coals BBQ sauce" is a great traditional table sauce. It is a fresh take on that legendary flavour you know and love. Perfect to use alongside almost everything, or for marinating and basting. All our sauces are made from all natural ingredients and are gluten-free.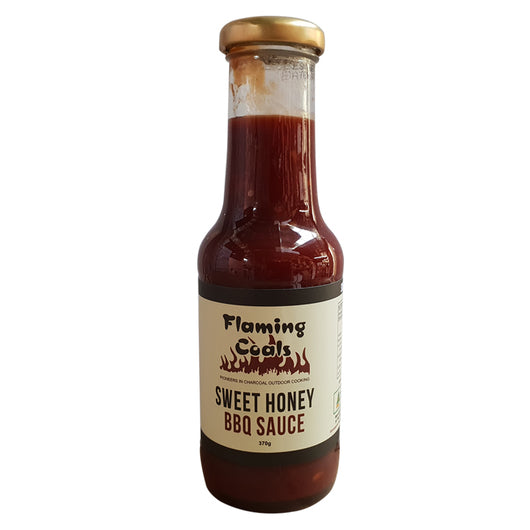 "Flaming Coals Sweet Honey BBQ Sauce" is very similar to the Original BBQ sauce but with the addition of honey. The distinctive blend of honey and smoke will surely make you dish standout. We've been using this as a glaze on ribs and we're getting great results.
.
Now if you like it hot, the "Flaming Coals Hot BBQ Sauce" is the one for you. This is very much similar to the Classic BBQ sauce but with added chilli. This sauce works well with pulled pork or chicken wings and will add a tasty spice to any dish.
If you want to see the full range of our rubs and sauces you can check it here.
---