The best wood for smoking different meats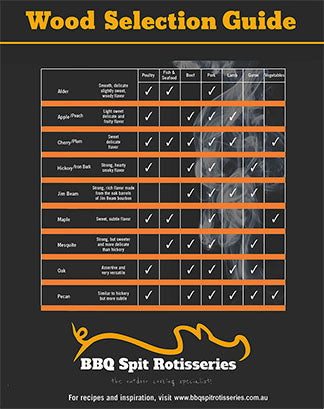 Selecting the right wood when smoking is very important because it adds flavour and aroma to your dish. Not matching the right wood to your meat can result in an unpleasant flavour combination or worst case completely spoil your lunch or dinner.
When smoking pork, I often use apple wood or peach, as it gives a very subtle smoke that enhances the flavour of the meat. On the other hand, I use ironbark or cherry when smoking beef. Ironbark has a strong hearty flavour whereas cherry gives the beef a slightly sweetish taste that is a hit with friends and family.
You can refer to the "Wood Selection Guide" table to see a more detailed comparison on woods.
Check out more delicious smoking recipes and How to guides
For more hints and tips, make sure you download our recipe guides.
Want to get hands-on experience on how to prepare awesome BBQ from experienced pitmasters? Check out the dates for our upcoming BBQ Masterclasses and in-store demo's in our Sydney and Melbourne stores.
---