What You Can Put Inside a Whole Animal When Spit Roasting
What to stuff a whole animal with while Spit Roasting
Spit roasting lamb or suckling pig is certainly an Aussie favourite. The evolution of cooking whole animals has greatly evolved with an influx of diverse cultural recipes on how to cook your perfect piece of meat. Today we will run you through an easy way to season lamb or pork on the spit.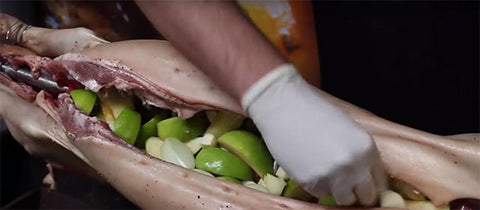 The most effective way to cook a whole lamb is to keep it super traditional. The predominant ingredients we like to use are olive oil, lemon, garlic and rosemary. Through adding these, the flavours and smells are enhanced and also adds moisture to the meat resulting in a deliciously tender dish.
When roasting a whole pig we recommend stuffing it with loin meat, raisins and apple to bring out that ultimate flavour of the pork. Furthermore, by adding loin meat, not only do you add moisture, you also flesh out the cavity ensuring there is more to go around when cooking for larger groups. Always remember to make sure your whole animal is sewed up correctly in order to keep the beautiful flavours and herbs wrapped up inside. We recommend using butcher's twine or cooking string.
For more hints and tips, make sure you download our recipe guides.
Want to get hands-on experience on how to prepare awesome BBQ from experienced pitmasters? Check out the dates for our upcoming BBQ Masterclasses and in-store demo's in our Sydney and Melbourne stores.
by: Rhiannon Peterson
---